Regular price
Sale price
$19.99
Unit price
per
Couldn't load pickup availability
𝐄𝐱𝐩𝐞𝐜𝐭𝐞𝐝 𝐝𝐞𝐥𝐢𝐯𝐞𝐫𝐲: 𝟓-𝟕 𝐝𝐚𝐲𝐬 𝐟𝐫𝐨𝐦 𝐨𝐫𝐝𝐞𝐫 𝐜𝐨𝐧𝐟𝐢𝐫𝐦𝐚𝐭𝐢𝐨𝐧 𝐝𝐚𝐭𝐞
🚚 𝙁𝙧𝙚𝙚 𝙨𝙝𝙞𝙥𝙥𝙞𝙣𝙜 𝙤𝙣 𝙤𝙧𝙙𝙚𝙧𝙨 𝙤𝙫𝙚𝙧 59𝙐𝙎𝘿
---
Availability:
20 in stock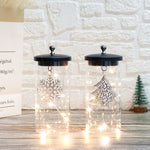 Regular price
Sale price
$19.99
Illuminate Your Space with JHY DESIGN's 6.7" Battery Operated Lamps (Set of 2)
In today's age of convenience, lighting solutions should adapt to our dynamic lifestyles. Embracing this philosophy, JHY DESIGN proudly introduces its signature 6.7" Battery Operated Lamps, available in a convenient set of two. Crafted to redefine elegance and versatility, these lamps effortlessly infuse every corner of your space with warmth and charm, liberating you from the constraints of cords and the perpetual search for an available outlet.
Glass Pendant Lights
Material: Metal, glass and fairy lights
Size: 3"L x 3"W x 7"H
Color: black metal, clear glass, silver christmas tree and snowflakes
Features of the JHY DESIGN 6.7" Battery Operated Lamps
Cordless Freedom:Bid farewell to the days of rearranging furniture based on electrical outlet locations. The JHY DESIGN 6.7" Battery Operated Lamps epitomize freedom. Whether illuminating your patio for a serene evening, casting a soft glow for bedtime reading, or adding luminescence to a dinner setting, these lamps stand by you, movable and resplendent.
Set of Two:Double the radiance with each package containing two intricately designed JHY lamps. Illuminate two distinct spots or bring them together for a profound impact. The duo ensures versatility, catering to varying moods and settings.
Exceptional Portability:Compact design and a lightweight framework make these lamps your go-to lighting companion, perfect for impromptu room makeovers, outdoor adventures, and more.
Energy-Efficient LED Technology:Beyond their radiant glow, these lamps champion sustainability. Equipped with LED bulbs, they promise brightness, longevity, and significant energy savings.
JHY DESIGN 6.7" Battery Operated Lamps: Unmatched Versatility, Safety, Outdoor Brilliance, and Emergency Readiness
Unparalleled Versatility:Break free from traditional lighting constraints. With JHY DESIGN 6.7" Battery Operated Lamps, shift, shuffle, and style your space as your heart desires.
Safety Ensured:No more tripping over cords or worrying about childproofing outlets. Cordless means risk-free, ensuring peace of mind.
Outdoor Brilliance:These Modern lamps transcend indoor spaces. Illuminate your garden parties, patio dinners, or simply bask in their ambient glow under the stars.
Emergency Ready:Power outages are no challenge with these Small lamps by your side, ensuring consistent illumination when needed most.
JHY DESIGN Lamps: From Bedroom Brilliance to Business Aesthetics, Elevate Every Space with Versatile Illumination
Bedroom Brilliance:Indulge in the soothing glow for late-night chapters or early morning musings. Placed on bedside tables, these lamps create an intimate ambiance, cocooning your personal space in a warm embrace. The subtle illumination sets the mood just right for moments of relaxation and introspection.
Outdoor Panache:Elevate your outdoor gatherings, from lively BBQ nights to enchanting moonlit dances. These lamps ensure that your outdoor events are not only well-lit but also exude an inviting atmosphere. Let the radiance of JHY DESIGN lamps transform your outdoor spaces into vibrant and welcoming settings.
Adventurous Glow:Embark on outdoor escapades with the assurance of a guiding light. Whether camping under the stars or exploring the wilderness, these lamps accompany you, casting an adventurous glow that turns your nights into radiant experiences. Illuminate your path and make every adventure memorable.
Productivity Enhanced:Transform your study or workspace into a haven of focus and productivity. The soft, ambient glow of these lamps enhances concentration and efficiency, creating an optimal environment for work or creative endeavors. Let the subtle illumination fuel your productivity and inspire your best work.
Business Aesthetics:For businesses seeking to elevate their ambiance, these lamps are indispensable. In cafes, restaurants, or lounges, they contribute to crafting a mesmerizing atmosphere, enhancing the overall dining experience. The subtle interplay of light adds a touch of sophistication, making these lamps essential elements in curating a memorable and aesthetically pleasing environment.
JHY DESIGN's 6.7" Battery Operated Lamps (Set of 2) transcend mere lighting solutions; they are style statements, safety companions, and sustainability champions. Step into a world where lighting meets limitless possibilities. Experience the freedom, embrace the glow, and enjoy unparalleled cordless convenience.
-20%

Regular price

$34.99

-21%

Sale price

$27.99
Choosing a selection results in a full page refresh.