Regular price
Sale price
$19.99
Unit price
per
Couldn't load pickup availability
𝐄𝐱𝐩𝐞𝐜𝐭𝐞𝐝 𝐝𝐞𝐥𝐢𝐯𝐞𝐫𝐲: 𝟓-𝟕 𝐝𝐚𝐲𝐬 𝐟𝐫𝐨𝐦 𝐨𝐫𝐝𝐞𝐫 𝐜𝐨𝐧𝐟𝐢𝐫𝐦𝐚𝐭𝐢𝐨𝐧 𝐝𝐚𝐭𝐞
🚚 𝙁𝙧𝙚𝙚 𝙨𝙝𝙞𝙥𝙥𝙞𝙣𝙜 𝙤𝙣 𝙤𝙧𝙙𝙚𝙧𝙨 𝙤𝙫𝙚𝙧 59𝙐𝙎𝘿
---
Availability:
11 in stock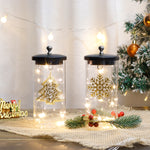 Regular price
Sale price
$19.99
Illuminate Your Space with JHY DESIGN's 7" Battery Operated Lamps (Set of 2)
In an era where convenience reigns supreme, lighting solutions shouldn't be any different. Delightfully, JHY DESIGN understands this paradigm shift and presents its signature 7" Battery Operated Lamps, available in a set of two. Designed to redefine elegance and versatility, these lamps ensure every corner of your space radiates warmth and charm, all without the constraints of cords or the constant hunt for an outlet.
Christmas Glass Pendant Lights
Material: Metal, glass and fairy lights
Size: 3"L x 3"W x 7"H
Color: black metal, clear glass, gold christmas tree and snowflakes
Features of the JHY DESIGN 7" Battery Operated Lamps
Cordless Elegance: Say goodbye to the constraints of electrical outlets. JHY DESIGN's 7" Battery Operated Lamps embody the modern shift towards flexibility. Whether illuminating a patio on a tranquil night, providing a soft glow for evening reading, or adding a touch of luminescence to dinner, these small lamps are the quintessence of modernity and mobility.

Set of Two

: Amplify the ambiance with two meticulously crafted JHY lamps in each set. Position them in separate areas for varied illumination or unite them for a deeper impact. These modern lamps adapt effortlessly, suiting diverse moods and decor.
Supreme Portability: Their compact form and feather-light structure position these lamps as your ultimate lighting ally, ideal for on-the-go adjustments, exterior escapades, or impromptu decor modifications.
Sustainable Brilliance: Beyond their radiant luminance, these lamps are guardians of the environment. Equipped with energy-efficient LED technology, they offer bright, enduring light while ensuring eco-friendliness and energy conservation.
JHY DESIGN's 7" Battery Operated Lamps: Boundless Flexibility, Safety, Outdoor Radiance, and Uninterrupted Illumination
Boundless Flexibility: Move beyond the limitations of conventional lighting. With JHY DESIGN's 7" Battery Operated Lamps, rearrange, revamp, and reinvent your space on a whim.
Safety First: Eliminate worries of tangled cords or the need to safeguard outlets. The cordless design offers a hazard-free environment, gifting you tranquility.
Outdoor Radiance: These lamps transcend indoor confines. Illuminate your garden soirées, patio feasts, or simply relax under their soothing light beneath the night sky.
Always Illuminated: While power cuts can unsettle, with these lamps at your disposal, consistent brightness is guaranteed, keeping the darkness at bay.
JHY DESIGN Lamps: Versatile Ambiance from Bedroom to Business
Versatile Bedroom Ambiance:Whether immersing yourself in late-night chapters or welcoming the morning with reflective musings, our lamps seamlessly grace bedside tables, setting the mood just right. The clear glass and gold Christmas tree and snowflakes add an enchanting layer of charm to your personal sanctuary, creating a warm and inviting haven.
Outdoor Radiance and Elegance:Transform your outdoor events, from lively BBQ nights to romantic moonlit dances, with our lamps casting a radiant glow. The gold accents elevate the ambiance, infusing a festive and inviting atmosphere into your gatherings. Embrace the enchantment of outdoor spaces adorned with our lamps' captivating light.
Adventurous Glamour:Guiding your way during camping trips, our lamps ensure your nights match the radiance of your days. The whimsical touch of gold adds a hint of glamour to your outdoor adventures, creating an atmosphere of elegance and charm under the starry skies.
Enhanced Productivity in Style:Elevate your study or workspace with the soft glow of our lamps, known to enhance focus and efficiency. The modern design, complemented by gold accents, creates an aesthetically pleasing work environment, seamlessly blending style with functionality.
Sophisticated Business Ambiance:Perfect for cafes, restaurants, or lounges, our lamps craft a mesmerizing ambiance, elevating the dining experience. The combination of black metal, clear glass, and gold details adds a touch of sophistication to your establishment, ensuring a memorable and visually appealing atmosphere for your patrons.
JHY DESIGN's 7" Battery Operated Lamps (Set of 2) are not just lighting solutions; they are style statements, safety companions, and sustainability champions. Dive into a world where lighting meets limitless possibilities. Experience the freedom, embrace the glow, and enjoy the unparalleled cordless convenience.
-20%

Regular price

$34.99

-21%

Sale price

$27.99
Choosing a selection results in a full page refresh.