By

JHY DESIGN
JHY DESIGN 59"H USB Three-stop Light Source Touch Magnetic Floor Lamp(White)
Regular price
Sale price
$69.99
Unit price
per
Couldn't load pickup availability
𝐄𝐱𝐩𝐞𝐜𝐭𝐞𝐝 𝐝𝐞𝐥𝐢𝐯𝐞𝐫𝐲: 𝟓-𝟕 𝐝𝐚𝐲𝐬 𝐟𝐫𝐨𝐦 𝐨𝐫𝐝𝐞𝐫 𝐜𝐨𝐧𝐟𝐢𝐫𝐦𝐚𝐭𝐢𝐨𝐧 𝐝𝐚𝐭𝐞
🚚 𝙁𝙧𝙚𝙚 𝙨𝙝𝙞𝙥𝙥𝙞𝙣𝙜 𝙤𝙣 𝙤𝙧𝙙𝙚𝙧𝙨 𝙤𝙫𝙚𝙧 59𝙐𝙎𝘿
---
Availability:
Low stock: 10 left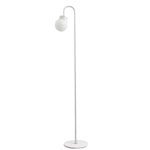 Regular price
Sale price
$69.99
Elevate Your Living Room with JHY DESIGN's 59"H White Magnetic Floor Lamp
In today's world, where sleek design meets everyday functionality, JHY DESIGN proudly introduces its latest innovation in home lighting: the 59"H White Magnetic Floor Lamp. This modern lamp, a perfect floor lamp for living rooms, studios, and contemporary spaces, blends the essence of practicality with the elegance of modern design. It stands as a testament to the brand's commitment to creating living room lamps that are not just sources of light but also pieces of art.
59"H White Magnetic Floor Lamp by JHY DESIGN
Material: Premium Aluminum and Iron
Size: 9''L x 9''W x 59"H
Color: Pristine White
Features of the JHY DESIGN 59"H White Magnetic Floor Lamp
Sophisticated Design: This floor lamp for the living room showcases a minimalist yet elegant design. With its sleek white color, it exudes modernity and sophistication, fitting seamlessly into any contemporary home décor. It's the perfect blend of form and function, a modern lamp that enriches your living space.
Advanced Lighting Technology: The lamp is equipped with a state-of-the-art USB interface and touch-sensitive controls, allowing for easy three-level monochromatic light source adjustments. This feature ensures that the lamp caters to various lighting needs, whether you require a soft ambient glow or brighter illumination for reading and other activities.
Magnetic Innovation: The lamp's unique magnetic bulb feature, which allows for adjustable angles, sets this piece apart. This innovative design not only provides targeted lighting but also adds a dynamic visual element to your living room, making it a focal point of interest and conversation.
JHY DESIGN's 59"H White Magnetic Floor Lamp: Where Style Meets Functionality
Adaptable Ambiance: The lamp's versatility makes it an ideal living room companion, capable of adapting its illumination to suit your mood, activity, or time of day. Its ability to transform the ambiance of a room makes it a valuable addition to any living space.
USB-Enabled Convenience: The modern lifestyle demands modern solutions, and this lamp delivers just that. The built-in USB interface provides the practicality of charging electronic devices, making it a multifunctional piece for the contemporary home.
Artistic Elegance: Not only is this lamp a source of light, but it also serves as a piece of art. Its sleek design and innovative features make it a stylish addition to any living room, enhancing the overall aesthetic while providing functional lighting.
JHY DESIGN Floor Lamps: Illuminating Modern Living
Versatile Decor Piece: As a floor lamp for the living room, it complements a range of interior styles, from ultra-modern to eclectic, adding a touch of elegance to your home.
Conversational Masterpiece: This magnetic floor lamp, with its unique features and sleek design, is bound to spark conversations among guests, earning admiration for its blend of technology and style.
Practical Elegance: Ideal for those who appreciate modern lamp designs that don't sacrifice functionality for style. Its adjustable lighting and innovative features make it a practical choice for any contemporary home.
The 59"H White Magnetic Floor Lamp by JHY DESIGN is more than just a lighting fixture; it's a beacon of modern design and innovation. It redefines what a floor lamp for the living room can be, blending seamlessly into your lifestyle and decor. Illuminate your space with this exquisite piece, and experience a perfect harmony of light, elegance, and modern sophistication.
-20%

Regular price

$34.99

-21%

Sale price

$27.99
Choosing a selection results in a full page refresh.