Regular price
Sale price
$102.99
Unit price
per
Couldn't load pickup availability
𝐄𝐱𝐩𝐞𝐜𝐭𝐞𝐝 𝐝𝐞𝐥𝐢𝐯𝐞𝐫𝐲: 𝟓-𝟕 𝐝𝐚𝐲𝐬 𝐟𝐫𝐨𝐦 𝐨𝐫𝐝𝐞𝐫 𝐜𝐨𝐧𝐟𝐢𝐫𝐦𝐚𝐭𝐢𝐨𝐧 𝐝𝐚𝐭𝐞
🚚 𝙁𝙧𝙚𝙚 𝙨𝙝𝙞𝙥𝙥𝙞𝙣𝙜 𝙤𝙣 𝙤𝙧𝙙𝙚𝙧𝙨 𝙤𝙫𝙚𝙧 59𝙐𝙎𝘿
---
Availability:
20 in stock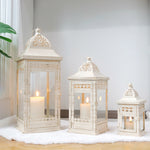 Regular price
Sale price
$102.99
Radiant Elegance: JHY DESIGN Vintage Hanging Lantern in Beige with Gold Brush
Illuminate your space with the timeless elegance of the JHY DESIGN 20"&14.5"&9.5" High Vintage Style Hanging Lantern in Beige with Gold Brush. Meticulously crafted for both style and durability, this lantern transforms any environment into a haven of warmth and sophistication.
*Material: Metal &Tempered glass panes
*Large size:8"L x 8"W x 20"H
*Medium size:6"L x 6"W x 14.5"H
*Small size:4.5"L x4.5"W x 9.5"H
*Color:beige metal and clear tempered glass
*Structure: Strong and durable
A PREMIUM DECORATIVE CANDLE LANTERN ,is great idea for the table top ,shelf ,pathway,patio porch,Indoor Outdoor, Events, Parities and Weddings
CLASSICAL AND DECENT DECORATIVE Crafted of metal with clear glass.
Exquisite Craftsmanship:Immerse yourself in the artistry of the JHY DESIGN Lantern. Each lantern is a testament to meticulous craftsmanship, where every detail is carefully considered. The sturdy metal frame, adorned with a refined beige finish and delicate gold brush accents, creates a visual masterpiece. This lantern is not merely a lighting fixture; it's a work of art that seamlessly blends vintage allure with contemporary sophistication.
Three Sizes for Versatile Styling:Choose the perfect size for your setting. The large lantern, measuring 8"L x 8"W x 20"H, commands attention in expansive spaces. The medium size, at 6"L x 6"W x 14.5"H, is ideal for creating intimate corners, while the small version, 4.5"L x 4.5"W x 9.5"H, adds a touch of elegance to more confined areas. With this trio of sizes, the JHY DESIGN Lantern offers versatility in styling that suits every space.
Premium Materials:Elevate your lighting experience with the JHY DESIGN Lantern's premium materials. The combination of robust metal and tempered glass panes ensures longevity and resilience. The clear glass panels not only protect the flame but also allow its soft glow to dance freely, casting enchanting shadows and creating an ambiance that captivates any observer.
Indoor and Outdoor Accent:Bring the beauty of the JHY DESIGN Lantern into your living space or let it grace your outdoor haven. The lantern's strong and durable structure makes it versatile enough to thrive both indoors and outdoors. Whether it's adorning your living room with a warm, inviting glow or enhancing your garden with a touch of magic, this lantern seamlessly transitions between environments.
Endless Applications:Embrace the versatility of the JHY DESIGN Lantern. It's not just a lighting solution; it's an essential companion for various occasions. Illuminate your soirées with elegance, embark on camping adventures with style, or simply enhance your home decor. The JHY DESIGN Lantern adapts effortlessly to your needs, making it a timeless addition to any setting.
Evoke Nostalgic Splendor: The JHY DESIGN Vintage Metal Candle
Lanterns

Illuminate your surroundings with the vintage allure of the JHY DESIGN metal candle lanterns. From its life-size design to the exquisite glass panes and elegantly distressed beige powdering, every detail resonates with the charm of bygone eras. These lanterns, versatile as both outdoor Lanterns and decorative Lanterns, transform any space into a haven of warmth. Explore the marriage of beauty and practicality that makes them perfect for both indoor and outdoor settings.
Universal Elegance: JHY DESIGN Lanterns for Every Candle Occasion

Discover the versatility of the JHY DESIGN Lanterns, a timeless collection that accommodates tea-lights, real candles, votives, or small pillar candles. Crafted from durable iron and glass, this series of lanterns, suitable as both decorative Lanterns and camping lanterns, comes in three sizes—large, medium, and small—offering a universal solution for various occasions. Unveil the perfect blend of style and function, whether you're hosting an outdoor gathering or enhancing your indoor decor.
Seamless Portability, Timeless Style: JHY DESIGN Lanterns for Every Theme

Redefine your decor with the JHY DESIGN Lanterns that effortlessly transition between hanging and sitting on flat surfaces. With a lightweight design and a hanging ring for added convenience, these lanterns become versatile decor accents suitable for both indoor and outdoor use. Embrace their compatibility with rustic, beach, nautical, coastal, or farmhouse themes, and let the vintage charm of these outdoor lanterns illuminate your space, turning any setting into a captivating display of style.
Experience the allure where style meets functionality. The JHY DESIGN Lantern awaits, ready to light up your moments with enduring sophistication. 
-20%

Regular price

$34.99

-21%

Sale price

$27.99
Choosing a selection results in a full page refresh.