Regular price
Sale price
$24.99
Unit price
per
Couldn't load pickup availability
𝐄𝐱𝐩𝐞𝐜𝐭𝐞𝐝 𝐝𝐞𝐥𝐢𝐯𝐞𝐫𝐲: 𝟓-𝟕 𝐝𝐚𝐲𝐬 𝐟𝐫𝐨𝐦 𝐨𝐫𝐝𝐞𝐫 𝐜𝐨𝐧𝐟𝐢𝐫𝐦𝐚𝐭𝐢𝐨𝐧 𝐝𝐚𝐭𝐞
🚚 𝙁𝙧𝙚𝙚 𝙨𝙝𝙞𝙥𝙥𝙞𝙣𝙜 𝙤𝙣 𝙤𝙧𝙙𝙚𝙧𝙨 𝙤𝙫𝙚𝙧 59𝙐𝙎𝘿
---
Availability:
20 in stock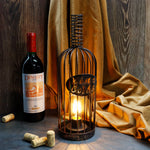 Regular price
Sale price
$24.99
Illuminate Your Space with JHY DESIGN's 13.5"H Cordless Metal Wine Cork Bottle Lamp
As home decor evolves, battery operated lamps are proving to be a blend of style and substance. Catering to this blend, JHY DESIGN is thrilled to present its iconic 13.5"H Battery Operated Metal Wine Cork Bottle Lamp. Infusing modern elegance with vintage charm, this lamp is poised to elevate every space, all while freeing you from the limitations of cords and traditional sockets.
Metal Wine Cork Bottle Lamp
Material:Wine Cork shape,Edison bulb
Size: 4"L x 4"W x 13.5" H
Color: Black Brushed Gold
Structure: Strong and durable
Features of the JHY DESIGN 13.5"H Wine Cork Bottle Lamp
Vintage Meets Vogue: Meticulously crafted, the wine cork shape paired with an Edison bulb symbolizes an era gone by. Its black brushed gold hue further accentuates its finesse, making it a standout in the world of battery operated table lamps.
Cordless Brilliance: Say goodbye to the constraints of plug points. This battery powered lamp epitomizes adaptability. Whether you're casting a serene ambiance for a quiet evening, brightening a reading alcove, or adding pizzazz to a party, this lamp delivers and dazzles.
Durability Defined: Beyond its aesthetic appeal, the table lamp's robust structure promises longevity, ensuring it remains a shining gem in your decor for years to come.
JHY DESIGN Wine Cork Bottle Lamp: Versatile, Safe, and Outdoor-Ready with Consistent Glow
Adaptability at its Best: With JHY DESIGN's Wine Cork Bottle Lamp, every corner of your home can be transformed, offering boundless opportunities to refresh and restyle.
Safety First: Eliminate the risks of tangled cords or potential tripping hazards. The world of battery operated lamps assures a safer, sleeker environment.
Outdoor Elegance: Extend your decor beyond the confines of walls. This lamp gracefully illuminates patios, decks, and gardens, making every outdoor moment memorable.
Consistent Glow: Even when power outages strike, your spaces remain bathed in a warm, comforting glow.
Elevate Every Space with the Modern Table Lamp: From Dining Delight to Workplace Charm, a Radiant Touch for Every Setting
Dining Delight: Set the mood right at dinner with this modern table lamp, gracefully seated atop dining tables. Its gentle illumination enriches every bite, making meals feel like intimate gatherings, suffused with a romantic, warm aura.
Living Room Luminescence: Beyond just a light source, this lamp transforms living rooms. Its radiant glow seamlessly complements other decors, adding depth and drama, creating an inviting atmosphere where stories unfold and memories are crafted.
Balcony Beauty: Elevate your outdoor sanctuaries. Whether it's a tranquil evening or a night of celebration, this lamp ensures every open-air moment under the starry expanse is steeped in magic and charm.
Workplace Charm: More than just illumination, this lamp brings an air of elegance to workspaces. Perfectly poised for offices or home studies, its presence not only elevates aesthetics but also strikes a balance between productivity and poised serenity, fostering an environment conducive to focus.
Resto-Bar Radiance: Dive into the world of hospitality with this lamp as a worthy companion. Be it upscale restaurants, cozy cafes, or trendy wine bars, its soft luminance crafts an ambiance where food tastes richer, conversations become deeper, and every guest feels wrapped in unparalleled comfort and style.
JHY DESIGN's 13.5"H Battery Operated Metal Wine Cork Bottle Lamp isn't merely a lighting fixture; it's a statement, a testament to evolving design sensibilities. Dive deep into the world where lighting isn't just functional but fabulous. Revel in the freedom, cherish the luminance, and immerse in the convenience of cordless opulence.
-20%

Regular price

$34.99

-21%

Sale price

$27.99
Choosing a selection results in a full page refresh.