Regular price
$32.99
Sale price
$29.99
Unit price
per
-$3.00
Couldn't load pickup availability
Availability:
11 in stock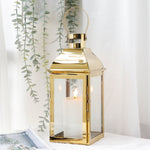 Regular price
$32.99
Sale price
$29.99
Illuminate Your Moments with JHY DESIGN Stainless Steel Decorative Candle Lanterns
Transform your space into a haven of elegance with the 12.5" H Stainless Steel Decorative Candle Lanterns by JHY DESIGN. Crafted with meticulous attention to detail, these outdoor lanterns seamlessly blend style and functionality.
*Material:Stainless steel &Tempered glass panes
* Size:5" x 5" x 15" (W/Handle)(12.5"H if without handle)
*Metal Structure: Strong and durable
Enhance Your Home with a Premium Candle Lantern. This classical and refined decorative lantern is crafted from stainless steel and features clear glass, making it a perfect addition to tabletops, shelves, paths, patio porches, and both indoor and outdoor settings. It's an excellent choice for events, parties, and weddings.
JHY DESIGN's Quality Selection and Selected Goods
Material Excellence: Made from premium stainless steel and enhanced with tempered glass panes, these decorative lanterns exude sophistication and durability. The stainless steel structure ensures longevity, making it an ideal choice for both indoor and outdoor use.
Perfect Dimensions: With a size of 5" x 5" x 15" (including the handle) or 12.5" in height without the handle, these lanterns are perfectly proportioned for any setting. From tabletops to hanging arrangements, they effortlessly elevate your decor.
Robust Design: The metal structure of these lanterns is not just decorative; it's a testament to strength. Embrace the reliability of a lantern built to withstand the elements, making it an excellent addition to your outdoor spaces.
JHY DESIGN's Stainless Steel Lanterns Elevate Indoor and Outdoor Spaces
Versatile Illumination: Step into a world of versatile illumination where flickering flames dance behind clear tempered glass panels. The captivating play of light creates an enchanting ambiance, making these camping lanterns the epitome of both decorative and functional lighting. Illuminate your garden, patio, or indoor spaces with a touch of magic.
Seamless Transition:Embark on a seamless transition from indoor sophistication to outdoor adventure. The addition of a convenient handle adds a practical touch, allowing you to carry or hang these lanterns effortlessly. Whether it's a cozy indoor evening or a starlit camping experience, these lanterns are your versatile companions.
JHY DESIGN Aesthetic:Immerse yourself in the unique JHY DESIGN aesthetic—where every detail reflects a commitment to quality and design. These lanterns are not just illuminating; they are captivating works of art that elevate your surroundings. Trust JHY DESIGN to redefine your lighting experience with lanterns that mirror your unique style.
Illuminate, Captivate, Elevate: Experience the allure of candlelight with JHY DESIGN's 12.5" H Stainless Steel Decorative Candle Lanterns. Illuminate, captivate, and elevate your space with a click here. Your journey into enduring elegance begins now.
Illuminate your surroundings with a touch of class and functionality – choose the JHY DESIGN 12.5" H Stainless Steel Decorative Candle Lantern. Lanterns that go beyond lighting; they become an integral part of your decor narrative. Elevate your space, embrace the allure of candlelight, and let JHY DESIGN redefine your lighting experience.
Regular price

Sale price

$34.99
Choosing a selection results in a full page refresh.
Your cart
Recommendations