Regular price
$23.99
Sale price
$19.99
Unit price
per
-17%
Couldn't load pickup availability
𝐄𝐱𝐩𝐞𝐜𝐭𝐞𝐝 𝐝𝐞𝐥𝐢𝐯𝐞𝐫𝐲: 𝟓-𝟕 𝐝𝐚𝐲𝐬 𝐟𝐫𝐨𝐦 𝐨𝐫𝐝𝐞𝐫 𝐜𝐨𝐧𝐟𝐢𝐫𝐦𝐚𝐭𝐢𝐨𝐧 𝐝𝐚𝐭𝐞
🚚 𝙁𝙧𝙚𝙚 𝙨𝙝𝙞𝙥𝙥𝙞𝙣𝙜 𝙤𝙣 𝙤𝙧𝙙𝙚𝙧𝙨 𝙤𝙫𝙚𝙧 59𝙐𝙎𝘿
---
Availability:
30 in stock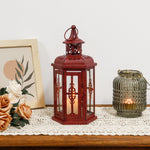 Regular price
$23.99
Sale price
$19.99
Red
Enchanting Elegance: JHY DESIGN 10"H Vintage Hanging Lantern in Radiant Red
Illuminate your surroundings with a touch of vintage charm and timeless elegance. The JHY DESIGN 10"H Vintage Hanging Lantern in Red is more than just a source of light; it's a captivating work of art meticulously crafted for those who appreciate the finer things in life.
*Material: Metal &Tempered glass panes
*Size: 5"L x 4"W x 10"H
*Metal Structure: Strong and durable
A PREMIUM DECORATIVE CANDLE LANTERN ,is great idea for the table top ,shelf ,pathway,patio porch,Indoor Outdoor, Events, Parties and Weddings
CLASSICAL AND DECENT DECORATIVE Crafted of metal and clear glass.
Masterful Craftsmanship:Marvel at the intricate combination of Metal and Tempered Glass Panes that define this lantern's construction. Each element is chosen with care, ensuring durability and creating a mesmerizing interplay of light and shadow. The result is not just a lantern; it's a statement piece that brings a touch of old-world allure to modern spaces.
Perfectly Proportioned for Versatility:Measuring at 5"L x 4"W x 10"H, this Vintage Hanging Lantern strikes the perfect balance between size and functionality. Whether it's enhancing your outdoor gatherings or adding a warm glow to your indoor spaces, its compact design makes it a versatile and stylish addition to any setting.

Red Radiance that Commands Attention:The lantern's vibrant Red hue adds a bold and striking element to your decor. Imagine it hanging gracefully in your garden, creating a warm ambiance for evening gatherings, or serving as a focal point in your living room, infusing the space with a pop of color and undeniable charm.

Metal Marvel: The Resilient Strength of JHY DESIGN Lantern's Metal Structure

Discover the hidden strength within the aesthetic appeal of the JHY DESIGN Lantern. Unveil the robust and durable Metal Structure designed to withstand the elements, making it an exceptional choice for both indoor and outdoor use. Let this decorative lantern become a beacon of style, standing resilient in any environment.

Versatility Unleashed: JHY DESIGN Vintage Hanging Lantern – A Multifaceted Masterpiece

Immerse yourself in the extraordinary versatility of the JHY DESIGN Vintage Hanging Lantern. Witness its seamless blend of roles as a lantern, outdoor lantern, and decorative Lantern. Envision it as the captivating centerpiece of your patio, crafting an inviting atmosphere, or as a delightful indoor accent, infusing your home with a timeless vintage flair.
Crafting Radiance: The Essence of JHY DESIGN's 10"H Vintage Hanging Lantern

Embark on a journey into the heart of craftsmanship with the JHY DESIGN 10"H Vintage Hanging Lantern. Each lantern is meticulously curated with a delicate fusion of Metal and Tempered Glass Panes, chosen for their quality and visual appeal. The material selection goes beyond mere utility— it forms the essence of this lantern's charm, promising not only durability but also a captivating play of light and shadow. Explore the artistry woven into the very fabric of this lantern, where each material contributes to the creation of an enduring masterpiece.
Elevating Elegance: The Refined Choices in JHY DESIGN's 10"H Vintage Hanging Lantern

Step into the world of refined aesthetics with the JHY DESIGN 10"H Vintage Hanging Lantern. The selection of materials is a testament to the brand's commitment to excellence. Crafted with precision, the lantern features a harmonious blend of Metal and Tempered Glass Panes, creating a symphony of strength and sophistication. Delve into the thoughtful curation that transcends utility—each material chosen not just for its durability but also its contribution to the overall aesthetic. Uncover the beauty in every detail, as this lantern becomes a beacon of timeless elegance, curated to elevate your space.
Every piece from JHY DESIGN is a testament to our commitment to blending timeless design with impeccable craftsmanship.
Elevate your decor with a touch of sophistication and make a statement with the JHY DESIGN 10"H Vintage Hanging Lantern.Bring home not just a lantern but an embodiment of style – where lanterns meet outdoor lanterns, and decorative lanterns become timeless treasures.
Illuminate your life with JHY DESIGN, where each piece tells a story of timeless beauty and enduring elegance.
-20%

Regular price

$34.99

-21%

Sale price

$27.99
Choosing a selection results in a full page refresh.