By

JHY DESIGN
14"*14"H JHY Black Round Freestanding Tabletop Fireplace
Regular price
Sale price
$110.00
Unit price
per
Couldn't load pickup availability
𝐄𝐱𝐩𝐞𝐜𝐭𝐞𝐝 𝐝𝐞𝐥𝐢𝐯𝐞𝐫𝐲: 𝟓-𝟕 𝐝𝐚𝐲𝐬 𝐟𝐫𝐨𝐦 𝐨𝐫𝐝𝐞𝐫 𝐜𝐨𝐧𝐟𝐢𝐫𝐦𝐚𝐭𝐢𝐨𝐧 𝐝𝐚𝐭𝐞
🚚 𝙁𝙧𝙚𝙚 𝙨𝙝𝙞𝙥𝙥𝙞𝙣𝙜 𝙤𝙣 𝙤𝙧𝙙𝙚𝙧𝙨 𝙤𝙫𝙚𝙧 59𝙐𝙎𝘿
---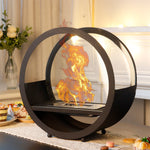 Regular price
Sale price
$110.00
Black
Chic Tabletop Ethanol Fireplace: Modern Warmth Meets Sleek Design Introduction
Infuse a touch of contemporary flair to your living spaces with our top-tier tabletop ethanol fireplace. Merging avant-garde design with efficient functionality, this masterpiece stands as an emblem of refined taste and craftsmanship.
Key Features:

Compact Size: Measuring  (14 inches) in width and (14 inches) in height, it's perfectly sized to fit on most tables, countertops, or shelves. It's a versatile piece that can be moved easily from room to room.

Eco-Friendly: Powered by bio-ethanol fuel, this bio ethanol fireplace is environmentally friendly, emitting no smoke or harmful residues. It's a clean alternative to traditional fireplaces and allows for an odor-free experience.

Easy to Use: No chimney or vents required! Simply fill with bio-ethanol fuel, light, and enjoy hours of radiant warmth and mesmerizing flames.
Modern Design Innovation: Modern Aesthetics Meet Comfort
Introducing our chic and innovative desktop bioethanol fireplace, designed for the modern home and discerning homeowner. Experience the beauty of open flame without the inconvenience or hazards of traditional fireplaces.
Safety & User-Friendliness: Sophisticated Fireplace Experience
JHY DESIGN prioritizes safety. Our sophisticated, user-friendly fireplace comes equipped with a protective screen and an integrated extinguishing system, ensuring a worry-free experience for users of all ages.
1. Sleek and Modern Design

With its elliptical shape and minimalist matte black finish, this fireplace exudes sophistication. The transparent glass centerpiece allows an unobstructed view of the mesmerizing flames, making it a captivating focal point for any room.

2. Compact and Versatile

Measuring at (14 inches) in length and (14inches) in height, our indoor fireplace is perfectly sized for tabletops, counters, and even office desks. Its compact design ensures that it fits seamlessly into your living space, whether it's your home, office, or boutique.

3. Environmentally Friendly Fuel

Bioethanol is a renewable energy source made from agricultural by-products. It burns cleanly, producing a bright flame without the smoke, ash, or soot commonly associated with wood-burning fireplaces. This means less pollution and a healthier environment for you and your loved ones.

4. Safe and Easy to Use

Safety is our top priority. Our fireplace is designed with a stable base and a secure burner chamber, ensuring that the flames remain contained. The use of bioethanol eliminates the need for a chimney or vent, reducing potential fire hazards. Lighting and extinguishing the flame is simple and hassle-free.
Durability with Elegance: Robust Fireplace Decor
Enjoy a fusion of durability and aesthetic appeal with our fireplace decor, featuring resilient metal and high-quality tempered glass. It's designed to endure high temperatures while offering a clear, safe view of the mesmerizing flames.
Versatility at Its Best
The freestanding design of the fireplace is not just about aesthetics; it also brings immense functional versatility. Place it by your poolside for a mesmerizing reflection of flames on water, or set it up in your garden as a beacon of warmth for those chilly evenings. Its portability ensures that you can change its location as per the occasion and mood.
IMPORTANT SAFETY MEASURES
1. Only use bioethanol as fuel. 130ml ethanol is enough to fill the tabletop fireplace. Approximate burning time is 50-70 minutes depending on room temperature and climate.
2. Always place the burner on a stable surface with free space.
3. Fill the burner with ethanol until the burner is full. Caution:spilled ethanol must be removed with an absorbent tissue and cleaned with water to prevent ignition outside the burner reservoir.
4. Light the ethanol with a stick-lighter. Keep safe distance to the burner. Please allow a couple of minutes to reach optimum temperature and flame height.
5. Let the fuel burn out completely if possible. This prevent ethanol left in the burner.
6. If you want to refill it, never pour fuel into the burning flame. First allow the burner to cool down for at least 15 minutes before refilling.
7. Never refill the burner when the fireplace is operating or still hot.
8. If you wish to extinguish the flame before the fuel has completely burned out. Please use the tool with a round bottom. Put the tool upon the burner and wait until the flame is extinguished.
9. Never leave an open fire unattended at any time!
INSTALLATION
1. Choose a location 4ft away from any flammable objects or materials (drapes, fabrics, etc.)
2. Be sure to remove all packing materials, cardboard, plastic, film, etc.
3. The fireplace is intended to be used indoor or outdoor, placed on a tabletop or stable surface.
MAINTENANCE AND CARE
1. The burner may change colour because of the heat. With regular maintenance, it will keep its colour.
2. Use a wet cloth to clean the surface of the fireplace.
3. Fireplace should be cleaned regularly.
4. Do not clean with water or put in a dishwasher. Wipe down the glass surfaces with a warm, damp cloth.
-20%

Regular price

$34.99

-21%

Sale price

$27.99
Choosing a selection results in a full page refresh.