Regular price
Sale price
$29.99
Unit price
per
Couldn't load pickup availability
𝐄𝐱𝐩𝐞𝐜𝐭𝐞𝐝 𝐝𝐞𝐥𝐢𝐯𝐞𝐫𝐲: 𝟓-𝟕 𝐝𝐚𝐲𝐬 𝐟𝐫𝐨𝐦 𝐨𝐫𝐝𝐞𝐫 𝐜𝐨𝐧𝐟𝐢𝐫𝐦𝐚𝐭𝐢𝐨𝐧 𝐝𝐚𝐭𝐞
🚚 𝙁𝙧𝙚𝙚 𝙨𝙝𝙞𝙥𝙥𝙞𝙣𝙜 𝙤𝙣 𝙤𝙧𝙙𝙚𝙧𝙨 𝙤𝙫𝙚𝙧 59𝙐𝙎𝘿
---
Availability:
Low stock: 10 left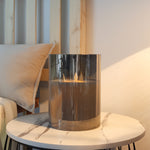 Regular price
Sale price
$29.99
JHY DESIGN's Majestic Luminary: The 8-inch Triple Wick Glass Flameless Candle
Embark on a Luminous Odyssey with JHY DESIGN's Exclusive Creation
In a celebration of light and design, JHY DESIGN unveils its 8-inch 3-Wick Glass Flameless Candle, exclusively tailored for discerning US clientele. More than a source of illumination, this candle symbolizes the pinnacle of artistry and modern elegance.
Beholding the Grandeur of the Triple Wick Flameless Vision
With an impressive height of 8 inches, this flameless marvel, encased in pristine glass, showcases the rhythmic dance of three wicks. Their synchronized sway, powered by cutting-edge technology, paints a tableau reminiscent of authentic candlelit nights.
Signature Traits of JHY DESIGN's Tri-Wick Luminous Showpiece
Elevated Elegance:
Standing tall at 8 inches, this led candles offers a grand presence, setting the stage for memorable atmospheres.
Trinity of Light:
The trio of wicks ensures a radiant display, casting multifaceted reflections and magnifying the candle's allure.
Exclusivity Embodied:
Designed with impeccable attention to detail, this candle is an exclusive offering for the US market, epitomizing uniqueness and luxury.
Bathing in the Splendid Aura of JHY DESIGN's Glass Flameless Candle
As this candle casts its mesmerizing glow, it weaves an enchanting ambiance, turning moments into unforgettable luminous tales.
Gleaming Chronicles: Echoes from Illuminated Souls
"The sheer magnificence of JHY DESIGN's 8-inch candle, with its three wicks, has transformed my space into a haven of luxury." - Lorraine K.
"There's an exclusive charm to this candle, and its glow, accentuated by the three wicks, feels both opulent and comforting." - Raphael T.
Illuminating Queries: Shining Light on the Tri-Wick Wonder
What sets this candle apart in the realm of flameless luminaries?

Its towering stature combined with the tri-wick design offers an unparalleled visual feast, making it stand out in the world of flameless candles.

Does the glass exterior enhance the candle's luminance?

Indeed! The clear glass magnifies the glow, creating a brilliant play of light and shadow, enriching every ambiance.
Dive deep into a world where splendor meets sophistication with JHY DESIGN's 8-inch 3-Wick Glass Flameless Candle. Exclusively for the US, this luminary promises to be the crowning jewel of any setting.
-20%

Regular price

$34.99

-21%

Sale price

$27.99
Choosing a selection results in a full page refresh.