By

JHY DESIGN
8"H Cordless Metal Wine Barrel Lamp with 6-Hour Timer
Regular price
Sale price
$24.99
Unit price
per
Couldn't load pickup availability
𝐄𝐱𝐩𝐞𝐜𝐭𝐞𝐝 𝐝𝐞𝐥𝐢𝐯𝐞𝐫𝐲: 𝟓-𝟕 𝐝𝐚𝐲𝐬 𝐟𝐫𝐨𝐦 𝐨𝐫𝐝𝐞𝐫 𝐜𝐨𝐧𝐟𝐢𝐫𝐦𝐚𝐭𝐢𝐨𝐧 𝐝𝐚𝐭𝐞
🚚 𝙁𝙧𝙚𝙚 𝙨𝙝𝙞𝙥𝙥𝙞𝙣𝙜 𝙤𝙣 𝙤𝙧𝙙𝙚𝙧𝙨 𝙤𝙫𝙚𝙧 59𝙐𝙎𝘿
---
Availability:
Low stock: 10 left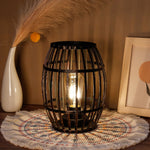 Regular price
Sale price
$24.99
Illuminate Your Space with 8" Cordless Metal Wine Barrel Lamp with 6-Hour Timer
Welcome the 8" Cordless Metal Wine Barrel Battery Operated Lamp by JHY DESIGN, blending timeless charm with practical features. This lamp, characterized by its wine barrel design, provides a sophisticated lighting solution that is versatile, cordless, and stylish, making it a quintessential addition to various spaces.
Features of the JHY DESIGN 8" Cordless Metal Wine Barrel Lamp
Vintage Wine Barrel Design
With its unique wine barrel shape, this lamp brings a vintage charm, enriching spaces with its distinct and elegant presence.
Cordless Convenience
The cordless nature of this lamp offers a clean, clutter-free look, allowing for versatile placement options without the restrictions of cables.
6-Hour Timer
Featuring a 6-hour timer, this cool desk lamp provides prolonged illumination while conserving energy, offering convenience and efficiency.
Benefits of Choosing this Wine Barrel Lamp
Classic Aesthetic
The wine barrel design of the modern lamp lends a timeless elegance to your decor, creating a warm and inviting ambiance in any room.
Flexible Placement
The absence of cords allows for adaptable placement, making it a versatile lighting choice for living rooms, dining areas, and more.
Energy Efficiency
The included 6-hour timer aids in energy conservation, making it an eco-friendly and economical lighting option.
Enhanced Safety
Eliminate the risk of tripping over cords and enjoy a safer living environment with this cordless lamp.
Ideal Applications of JHY DESIGN 8" Cordless Metal Wine Barrel Lamp
Elegant Home Decor:Incorporate this lamp into your home setting to add a classic, vintage touch to your living spaces.
Restaurant and Pub Ambiance:Utilize this unique lamp to create a cozy and inviting atmosphere in restaurants, pubs, or cafes.
Event Lighting:Introduce a touch of timeless elegance to your events with this wine barrel lamp, setting a warm and sophisticated tone.
Workspace Enhancement:Revitalize your office or workspace with the vintage charm of this lamp, offering both style and functionality.
JHY DESIGN's 8" Cordless Table Lamp is a harmonious blend of elegance and practicality, providing a distinctive and timeless lighting solution for those aiming to bring a touch of classical charm to their spaces.

-20%

Regular price

$34.99

-21%

Sale price

$27.99
Choosing a selection results in a full page refresh.