By

JHY DESIGN
7"*5"*8.5" Small Portable Rectangular Modern Tabletop Fireplace
Regular price
Sale price
$25.99
Unit price
per
Couldn't load pickup availability
𝐄𝐱𝐩𝐞𝐜𝐭𝐞𝐝 𝐝𝐞𝐥𝐢𝐯𝐞𝐫𝐲: 𝟓-𝟕 𝐝𝐚𝐲𝐬 𝐟𝐫𝐨𝐦 𝐨𝐫𝐝𝐞𝐫 𝐜𝐨𝐧𝐟𝐢𝐫𝐦𝐚𝐭𝐢𝐨𝐧 𝐝𝐚𝐭𝐞
🚚 𝙁𝙧𝙚𝙚 𝙨𝙝𝙞𝙥𝙥𝙞𝙣𝙜 𝙤𝙣 𝙤𝙧𝙙𝙚𝙧𝙨 𝙤𝙫𝙚𝙧 59𝙐𝙎𝘿
---
Availability:
20 in stock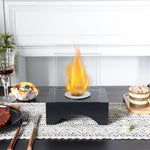 Regular price
Sale price
$25.99
Black
JHY DESIGN's Small Rectangular Portable Fireplace
JHY DESIGN presents the Rectangular Tabletop Fire Bowl Pot, a modern portable fireplace that revolutionizes the ambiance in various spaces. Its rectangular design makes it a perfect centerpiece for indoor and outdoor patio parties and events.
JHY DESIGN Bio Ethanol Fireplace
JHY DESIGN offers this innovative fireplace solution, powered by clean-burning bioethanol. This feature ensures a mesmerizing real flame experience without the traditional hassles, providing an environmentally friendly and emission-free alternative.
1. Fireplace Flexibility: The Ventless Design Innovation
The Rectangular Tabletop Fireplace, featuring ventless technology, promises hassle-free placement and flexibility, eliminating the need for chimneys or extensive modifications. This innovative design is a versatile addition to any space, whether it's a home or an office, offering warmth and style wherever needed.
2.User-Friendly Sophistication: Ensured Safety

JHY DESIGN understands the importance of safety. The Rectangular Tabletop Fire Bowl Pot comes with safety features, including a protective screen and an integrated extinguishing system, providing a worry-free and sophisticated fireplace experience.
3. Durable and Decorative: Elegant Fireplace Construction

Experience the durable elegance of our rectangular fireplace, featuring high-quality tempered glass and resilient metal. It's designed to withstand high temperatures, offering a safe and transparent view of the enthralling flames, illuminating your spaces with its enchanting glow.
Benefits of Choosing Bio Ethanol Fireplaces

Eco-friendly Ambiance: Unlike traditional fireplaces, a bio ethanol fireplace is environmentally friendly. Experience the magic of flames without the guilt of harming our planet.2.
Space Savvy: Given its compact design, it becomes an ideal choice for urban homes where space is a premium.
Design Flexibility: Without the constraints of chimneys and vents, the JHY DESIGN Bio Ethanol Fireplace offers unparalleled design flexibility, making it a favorite among interior designers and architects.
Clean & Efficient: Say goodbye to the mess of ash and soot. This fireplace promises a clean burn, ensuring your home remains spotless.
Widely Usage of Fireplace
Romantic Evenings: Set the mood for a romantic evening with your loved one, with the soft glow of the fireplace as your backdrop.

Outdoor Gatherings: Elevate your garden parties and outdoor gatherings, adding warmth and sophistication.

Restaurant and Café Decor: Create a memorable dining experience for your patrons, adding an aura of luxury.

Relaxation Nook: After a long day, unwind by the gentle flames, letting the stress melt away.
JHY DESIGN: A Blend of Elegance and Functionality in Modern Heating Solutions
In a world where aesthetics seamlessly merge with functionality, JHY DESIGN emerges as a forerunner in providing innovative heating solutions. Their latest offering, a sleek Ethanol Gel Powered fireplace, is a testament to their commitment to quality, design, and innovation.
Installation & Safety Guidelines:

1. Ensure stable placement and maintain a 4ft distance from flammable materials.
2. Suitable for both indoor and outdoor use at patio parties and events.
3. Use approved ethanol and have a fire extinguisher accessible.
4. Do not leave the fireplace unattended when lit.
 JHY DESIGN's Rectangular Tabletop Fire Bowl Pot is more than a heating appliance; it's a harmonious blend of modern style, sophistication, and safety, designed to transform spaces into warm, inviting sanctuaries.
-20%

Regular price

$34.99

-21%

Sale price

$27.99
Choosing a selection results in a full page refresh.