Regular price
Sale price
$25.99
Unit price
per
Couldn't load pickup availability
Availability:
30 in stock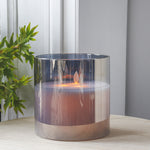 Regular price
Sale price
$25.99
JHY DESIGN's Tri-Wick Glass Flameless Marvel: Elevating Ambiance in Every Corner
Illuminate Anew with JHY DESIGN's candle
Bridging the gap between age-old traditions and today's tech prowess, JHY DESIGN presents its Tri-Wick Glass Flameless Led Candles. Beyond mere illuminators, these candles epitomize a blend of classic charm and contemporary convenience.
Glimpsing the Grandeur of the Tri-Wick Flameless Candle
Housed in clear glass and poised at a height of 6 inches, this luminary stands as a testament to intricate design. Its trio of wicks, animated by advanced flame simulation, conjures the rhythmic dance of genuine Led candle lighting flames, crafting a visual symphony.
JHY DESIGN's LED Candle: Distinctive Attributes that Shine
Triple Radiance: With three wicks at its core, the candle exudes a luminosity that's threefold, casting intricate patterns of light and shade.

Modern Marvel: Harnessing battery power, the flame pulsates with a vitality that mirrors real candles, minus the fuss and hazards.

Consistent Luminance: The candle's built-in timer guarantees its radiance graces events and spaces at the right moments, while ensuring energy conservation.

Bathing in the Brilliance of JHY DESIGN's Tri-Wick Candle
Every pulse of this flameless candle infuses spaces with an aura of serenity, turning ordinary evenings into enchanting experiences.
From the Diaries of Luminary Enthusiasts: Tales of Candle
"With JHY DESIGN's tri-wick candle, my lounge feels like a serene sanctuary. The Led tealight candles' authentic pulse is sheer magic." - Nathaniel W."Introduced this to my patio setting for an evening soiree. The pulsating glow and clear glass design was the evening's star!" - Lila J.
Clarifying the Luminescent Mystique: A Glimpse into JHY DESIGN's Flameless Candle
How does this candle achieve its lifelike pulse?
Ingenious tech ensures that the LED flames sway with a realism reminiscent of genuine candle flames, captivating every onlooker.
Is the glass robust enough for regular use?
Certainly! Crafted with care, the glass casing promises durability without compromising on elegance.
Delve into an entrancing world of light and shadow with JHY DESIGN's Tri-Wick Glass Flameless Led candles. An ode to refined aesthetics and modern flair, it's set to become the glowing heart of your decor.
Regular price

Sale price

$34.99
Choosing a selection results in a full page refresh.
Your cart
Recommendations