By

JHY DESIGN
5"x3.5" JHY Mini Gray Cement Fireplace Modern Fire Pit
Regular price
Sale price
$39.99
Unit price
per
Couldn't load pickup availability
𝐄𝐱𝐩𝐞𝐜𝐭𝐞𝐝 𝐝𝐞𝐥𝐢𝐯𝐞𝐫𝐲: 𝟓-𝟕 𝐝𝐚𝐲𝐬 𝐟𝐫𝐨𝐦 𝐨𝐫𝐝𝐞𝐫 𝐜𝐨𝐧𝐟𝐢𝐫𝐦𝐚𝐭𝐢𝐨𝐧 𝐝𝐚𝐭𝐞
🚚 𝙁𝙧𝙚𝙚 𝙨𝙝𝙞𝙥𝙥𝙞𝙣𝙜 𝙤𝙣 𝙤𝙧𝙙𝙚𝙧𝙨 𝙤𝙫𝙚𝙧 59𝙐𝙎𝘿
---
Availability:
30 in stock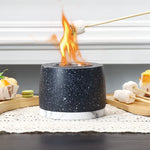 Regular price
Sale price
$39.99
Black
The Epitome of Elegance: LUXAIRE's 5"x3.5" Tabletop Bio Ethanol Fireplace
*Material: Cement, stainless steel

*Product Size: 5"x3.5"

*Color: Profound black cement, sleek stainless steel

*Cement Structure: Sturdy and lasting

A CONTEMPORARY MASTERPIECE: Constructed of refined black cement, stainless steel, and adorned with a pristine flame, this tabletop fireplace adds a touch of grandeur to any dwelling.

Key Features:

Solid Cement Foundation: Ensuring longevity with its robust cement base, crafted for durability and to withstand time.

Modern Elegance: An exquisite living room fireplace that emits sophistication. Absent of ash and smoke, it's the perfect addition to your living space, dining area, bedroom, and beyond.

Timeless Decor Piece: Painstakingly designed with black cement, stainless steel, and the bewitching dance of the flame, it amplifies the luxury quotient of any setting.

Clean and Green: The Bio Ethanol Excellence
In line with our pledge to sustainable sophistication, LUXAIRE introduces this groundbreaking fireplace, employing clean-burning bioethanol. Revel in the charm of a real flame minus the conventional complications, offering an eco-friendly, emission-less ambiance.
Art and Warmth Combined: The Modern Fireplace Marvel
Beyond just a heating apparatus, our modern fireplace is a statement of artistry. The graceful dance of the flames juxtaposed against the deep black cement and shiny stainless steel, seamlessly fits with diverse decor themes, establishing it as a design marvel in contemporary residences.
Cutting-Edge Form & Functionality: Stylish and Streamlined
The compact design of this tabletop fireplace, embraced by the rich black cement, transcends just utility—it's an artistic declaration. Its minimalist appeal synergizes practicality with modern aesthetics, infusing an enchanting modern touch in any space.
Versatile Centerpiece for Every Occasion: Defining Ambiance
Due to its standout design and mobile nature, our bio ethanol fireplace becomes the centerpiece for varied gatherings. Its enticing flame and sleek aesthetics set the mood, reshaping the feel of any setting, and turning events into cherished moments.
A Seamless Blend of Safety and Beauty: Prioritizing Well-being
Safety is non-negotiable at LUXAIRE. This tabletop fireplace, besides being an aesthetic gem, is also an embodiment of safety. Relish its elegant aura and calming flames with utmost confidence, aided by the included state-of-the-art fire extinguisher, allowing its harmonious blend of beauty and warmth to elevate your spaces.
Durability Meets Design: A Testament to Craftsmanship
With utmost precision, the sturdy composition of deep black cement ensures durability. Not just reinforcing the fireplace's unique mold, but also highlighting its refined charm, assuring lasting beauty and continued utility.
IMPORTANT SAFETY MEASURES
1. 130ml ethanol is enough to fill the tabletop fireplace. With 130ml ethanol, it can last burning about 1 hour with charming lights.
2. Do not smoke while filling the fuel pot.
3. For extra protection, as with all items with open flames, keep an easily accessible fire extinguisher nearby.
4. Use only approved liquid ethanol for tabletop fireploces. Do not use any other combustible, such as bio-ethanol car fuel.
5. Do not use the fireplace to cook food or heat water.
6. Do not move fireplace while lit.
7. Never leave the lit fireplace unattended.
8. No need to take off the white fiberglass which is used for absorbing ethanol.
INSTALLATION
1. Choose a location 4ft away from any flammable objects or materials (drapes, fabrics, etc.)
2. Be sure to remove all packing materials, cardboard, plastic, film, etc.
3. The fireplace is intended to be used indoor or outdoor, placed on a tabletop or stable surface.
MAINTENANCE AND CARE
1. The burner may change colour because of the heat. With regular maintenance, it will keep its colour.
2. Use a wet cloth to clean the surface of the fireplace.
3. Fireplace should be cleaned regularly.
4. Do not clean with water or put in a dishwasher. Wipe down the glass surfaces with a warm, damp cloth.
-20%

Regular price

$34.99

-21%

Sale price

$27.99
Choosing a selection results in a full page refresh.