By

JHY DESIGN
4.3"x3.5" JHY Round Gray Mini Fire Pit Tabletop Fireplace
Regular price
Sale price
$35.00
Unit price
per
Couldn't load pickup availability
𝐄𝐱𝐩𝐞𝐜𝐭𝐞𝐝 𝐝𝐞𝐥𝐢𝐯𝐞𝐫𝐲: 𝟓-𝟕 𝐝𝐚𝐲𝐬 𝐟𝐫𝐨𝐦 𝐨𝐫𝐝𝐞𝐫 𝐜𝐨𝐧𝐟𝐢𝐫𝐦𝐚𝐭𝐢𝐨𝐧 𝐝𝐚𝐭𝐞
🚚 𝙁𝙧𝙚𝙚 𝙨𝙝𝙞𝙥𝙥𝙞𝙣𝙜 𝙤𝙣 𝙤𝙧𝙙𝙚𝙧𝙨 𝙤𝙫𝙚𝙧 59𝙐𝙎𝘿
---
Availability:
Low stock: 10 left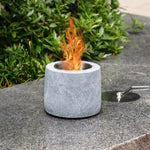 Regular price
Sale price
$35.00
Grey
A Symphony in Gray: The Ultimate Tabletop Fireplace Experience
Discover the epitome of contemporary charm with our Gray Cement Tabletop Fireplace. Merging timeless aesthetics with state-of-the-art design, this fireplace establishes itself as the quintessential element of luxury, radiating warmth and sophistication to any space it graces.
Attributes of the Gray Cement Fireplace
Elegant Gray Cement Base
Delve into the subdued elegance of the gray cement base, instantly setting the tone for a refined ambience. The muted gray hue brings with it a sense of tranquility, while the sturdy base guarantees unmatched stability. Its sleek matte finish and sharp lines ensure it blends harmoniously into any decorative theme.
Modern Minimalism
While the geometric finesse of its counterparts can be mesmerizing, the true magic of our gray cement fireplace lies in its minimalist design. It becomes a versatile addition to any decor, embodying the philosophy of 'less is more'.
Stainless Steel Burner Cup
Witness durability married to sophistication with the premium stainless steel burner cup. Designed to not only last but to also enhance the allure of the flames, it promises an entrancing visual play each time it's lit.
Top-Notch Fire Extinguisher
Safety, while often overlooked, remains paramount. Our high-quality fire extinguisher ensures that while you immerse yourself in the warmth and beauty of the flames, safety remains uncompromised.
Benefits of Choosing Our Black Cement Tabletop Fireplace
Eco-friendly Excellence
Our fireplace is powered by clean-burning bioethanol, which means you can revel in the beauty of real flames without negative environmental impacts.
Compact Sophistication
With dimensions of 4.3" by 3.5", this fireplace design is not only space-saving but becomes an embodiment of modern-day compact luxury, ideal for urban dwellings and quaint spaces alike.
Infinite Design Possibilities
Not bound by traditional fireplace norms, it opens a realm of design possibilities, allowing constant reinvention and adaptability.
Neat and Tidy
Not bound by traditional indoor fireplace norms, it opens a realm of design possibilities, allowing constant reinvention and adaptability.
The Many Moods of the Black Cement
 

Decorative Fireplace
Intimate Dinners: Transform your dinners into intimate affairs, with the soft, flickering glow providing the perfect backdrop.
Outdoor Soirees: Elevate your outdoor events, adding a touch of luxury and warmth that your guests will remember.
Coffee Shop Corners: Immerse your cafe patrons in a unique ambiance, making every sip of coffee memorable.
Personal Oasis: Create your relaxation corner, where the gentle flames lull you into peace after a bustling day.
Installation & Safety Guidelines:
Maintain a 4ft distance from flammable materials and ensure stable placement.
Suitable for both indoor/outdoor use.
Use only approved ethanol and keep a fire extinguisher nearby.
Never leave the fireplace unattended when lit.
Our Gray Cement Tabletop Fireplace isn't just a heating device—it's an embodiment of modern elegance and functionality. It's where warmth meets style, promising to turn any space into a haven of cozy luxury.
-20%

Regular price

$34.99

-21%

Sale price

$27.99
Choosing a selection results in a full page refresh.