Regular price
Sale price
$79.90
Unit price
per
Couldn't load pickup availability
𝐄𝐱𝐩𝐞𝐜𝐭𝐞𝐝 𝐝𝐞𝐥𝐢𝐯𝐞𝐫𝐲: 𝟓-𝟕 𝐝𝐚𝐲𝐬 𝐟𝐫𝐨𝐦 𝐨𝐫𝐝𝐞𝐫 𝐜𝐨𝐧𝐟𝐢𝐫𝐦𝐚𝐭𝐢𝐨𝐧 𝐝𝐚𝐭𝐞
🚚 𝙁𝙧𝙚𝙚 𝙨𝙝𝙞𝙥𝙥𝙞𝙣𝙜 𝙤𝙣 𝙤𝙧𝙙𝙚𝙧𝙨 𝙤𝙫𝙚𝙧 59𝙐𝙎𝘿
---
Availability:
Low stock: 10 left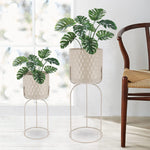 Regular price
Sale price
$79.90
Accentuate Your Spaces with JHY DESIGN's Set of 2  Grey

 

Planters with Stand
Unveil the harmony of nature and elegance in your interior and exterior spaces with JHY DESIGN's Set of 2 Geometric Planters. With a touch of gray sophistication, these
flowerpots
are designed to seamlessly integrate with any decor, infusing vitality and style.
Features of JHY DESIGN's Set of 2 Grey Planters with Stand
Sophisticated Geometric Design
Cloaked in a gray hue, these planters showcase a geometric embossed pattern, lending a touch of modern chic to both contemporary and classic surroundings.
Robust Metal Craftsmanship
Precision-engineered from metal, these planters promise longevity while establishing a pronounced fashion statement.
Varied Dimensions for Flexibility
Available in sizes of 7x18 inches and 8.5x21.5 inches, these planters provide flexibility to cater to different plant sizes and spaces.
Indoor and Outdoor Versatility
Designed for both indoor and outdoor usage, they're perfect for adorning your living room corner, kitchen, office, garden, balcony, and patio.
Their thoughtful design ensures adequate space for plant growth, facilitating optimal air circulation. This ensures your plants stay lush and thriving.
Benefits of Using JHY DESIGN's Set of 2 Grey Planters
Their compact and vertical design ensures they occupy minimal space while maximizing the area they beautify.
Lightweight yet sturdy, these planters can be effortlessly moved, allowing you to refresh your décor whenever you feel the need.
Enhanced Plant Visibility
Elevated on stands, your plants get the spotlight they deserve, ensuring they're noticed and appreciated by all.
Applications of JHY DESIGN's Set of 2 Grey Planters with Stand
Lounge Luxury: Position them in your living room to infuse a hint of nature's serenity.
Culinary Flair: Pep up your kitchen with aromatic herbs or decorative plants.
Corporate Greenery: Turn drab office spaces into vibrant, green sanctuaries.
Balcony Beauty: Amplify your balcony's aura, making it your favorite spot.
Patio Poise: Integrate them into your patio, setting up a tranquil retreat.
With JHY DESIGN's Set of 2 Grey Planters, you can effortlessly marry nature and elegance. Forge your personal green sanctuary and relish the peace it introduces to your domain.
-20%

Regular price

$34.99

-21%

Sale price

$27.99
Choosing a selection results in a full page refresh.