By

JHY DESIGN
21'' & 16'' &11''High Decorative Lantern Candle Holder
Regular price
$126.99
Sale price
$119.99
Unit price
per
-6%
Couldn't load pickup availability
𝐄𝐱𝐩𝐞𝐜𝐭𝐞𝐝 𝐝𝐞𝐥𝐢𝐯𝐞𝐫𝐲: 𝟓-𝟕 𝐝𝐚𝐲𝐬 𝐟𝐫𝐨𝐦 𝐨𝐫𝐝𝐞𝐫 𝐜𝐨𝐧𝐟𝐢𝐫𝐦𝐚𝐭𝐢𝐨𝐧 𝐝𝐚𝐭𝐞
🚚 𝙁𝙧𝙚𝙚 𝙨𝙝𝙞𝙥𝙥𝙞𝙣𝙜 𝙤𝙣 𝙤𝙧𝙙𝙚𝙧𝙨 𝙤𝙫𝙚𝙧 59𝙐𝙎𝘿
---
Availability:
50 in stock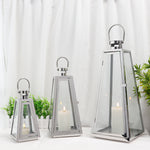 Regular price
$126.99
Sale price
$119.99
JHY DESIGN: Crafting Elegance and Versatility in Decorative Lanterns
Renowned globally, JHY DESIGN stands as a beacon in the intricate worlds of premium lighting and upscale home decor. Our name is synonymous with innovative designs, exceptional craftsmanship, and meticulous attention to detail. We proudly host a diverse portfolio, featuring an array of products from distinctive outdoor lanterns to exquisite furniture pieces and sophisticated home accents. When you embrace JHY DESIGN, you're not merely selecting a decorative piece; you're aligning with a legacy of unparalleled quality and timeless elegance.

Elegance Reimagined: 21" - 16" - 11" High Decorative Lantern Candle Holder
The 21" - 16" - 11" High Decorative Lantern Candle Holder by JHY DESIGN is not just another piece of decoration; it's a versatile work of art that combines vintage elegance with modern functionality. Whether gracing a serene garden setting or adding charm to a luxurious outdoor wedding, this outdoor lantern brings a touch of enchantment and timeless appeal to any event or space. Dive into the ethereal beauty of JHY DESIGN's Decorative Lantern Candle Holder and witness the magical dance of light and shadow.

Versatile Applications: A Journey Through Illuminated Elegance

Our lantern for camping are a harmonious addition to any garden, lighting up the natural tapestry with a warm, inviting glow. Their meticulous design creates a peaceful ambiance, perfectly complementing the serene beauty of outdoor spaces and providing a picturesque landscape for relaxation or entertainment.

These lanterns add a layer of romantic illumination to weddings, serving as whimsical centerpieces or pathway lights. The combination of soft light and elegant design crafts an atmosphere of romance and celebration, bringing a vintage charm to every corner of the venue.

Augment the elegance of your patios with our decorative lanterns, sculpting an atmosphere brimming with warmth and coziness. Constructed with durability in mind, these lanterns are resilient companions for tranquil nights and lively gatherings alike.

Although envisioned primarily for outdoor use, the multifaceted design of our lanterns makes them a refined addition to indoor spaces, bestowing your interiors with a touch of vintage elegance and sophisticated charm.

Distinctive Highlights and Unmatched Quality
The Decorative hanging Lantern Candle Holder series, available in varying heights from 21" to 11", seamlessly melds traditional aesthetic values with contemporary craftsmanship. The detailed metal frame and transparent glass panels are a testament to JHY DESIGN's commitment to unparalleled quality and artistic integrity. Whether perched atop a table or suspended in the air, these lanterns radiate a mesmerizing aura.

JHY DESIGN: A Symphony of Light and Elegance
JHY DESIGN is more than a brand; it's a proclamation of artistic excellence, refined elegance, and functional brilliance. Our versatile collection, particularly the Christmas Lantern Candle Holder series, stands as a testament to our unwavering dedication to providing products that resonate with quality and timeless elegance. Select JHY DESIGN and allow us to be your beacon of light and style, illuminating every corner of your world with unrivaled grace and sophistication.
-20%

Regular price

$34.99

-21%

Sale price

$27.99
Choosing a selection results in a full page refresh.