Regular price
$86.99
Sale price
$79.99
Unit price
per
-$7.00
Couldn't load pickup availability
Availability:
30 in stock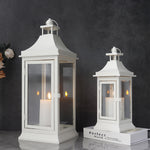 Regular price
$86.99
Sale price
$79.99
JHY DESIGN's Outdoor Candle Lanterns: A Fusion of Elegance and Versatility

JHY DESIGN is a distinguished lighting and home decor manufacturer, celebrated for crafting top-tier illumination and decorative solutions. Our extensive product range under the JHY DESIGN umbrella includes battery lamps, outdoor lanterns, alcohol lamps, electronic candle lights, and more. Beyond lighting, we also specialize in crafting elegant furniture pieces and decorative items. Every creation from JHY DESIGN signifies our dedication to design, functionality, and customer contentment. With JHY DESIGN, you're not just selecting a product; you're embracing a tradition of excellence.

Outdoor Candle Lanterns: The Quintessence of Classic Allure

JHY DESIGN's Outdoor Candle Lanterns are emblematic of classic allure and sophistication. These lanterns, meticulously designed, serve as the centerpiece in various settings, from tranquil garden evenings to the enchanting ambiance of outdoor gatherings. Immerse yourself in the captivating world of JHY DESIGN's Outdoor Candle Lanterns and experience the transformative essence of light.

Applications of JHY DESIGN's Outdoor Candle Lanterns in Varied Scenarios

Garden Ambiance

JHY DESIGN's Outdoor Candle Lanterns can be strategically positioned in gardens, casting a gentle and welcoming glow.
They can accentuate specific garden features, crafting a scenic landscape.
The hanging lanterns' vintage charm complements the natural allure of outdoor spaces, making them ideal for evening relaxation.
Event Decor

For outdoor events, these lanterns act as mesmerizing centerpieces, casting a romantic aura.
They can be suspended from trees or positioned along pathways, guiding guests with their gentle luminance.
The combination of metal and clear glass in the lanterns introduces a touch of vintage elegance to event decors.
Patio and Balcony Lighting
Elevate your patio or balcony with JHY DESIGN's Outdoor Candle Lanterns, crafting a snug ambiance for evening gatherings.
Their robust metal structure ensures durability, making them a trusted lighting choice for outdoor settings.
These camping lanterns can also illuminate pathways, ensuring safe navigation during nighttime.
Indoor Elegance

While primarily crafted for outdoor use, these lanterns effortlessly beautify indoor spaces.
Position them on tables, shelves, or mantelpieces to infuse a touch of elegance into your interiors.
Their vintage design harmoniously blends with diverse interior themes, from rustic to modern.
Product Description and Features
JHY DESIGN's Set of 2 Outdoor Candle Lanterns, measuring 19.5" and 13" tall, are not just ordinary lanterns; they are masterpieces of design and artistry. Constructed of durable metal, these christmas lanterns exude a vintage style that seamlessly blends classic and contemporary aesthetics. Whether you're placing them on a tabletop, suspending them in your garden, or using them as event centerpieces, these lanterns are bound to captivate. And with JHY DESIGN's assurance of quality, you're investing in a product that's designed to endure.

Illuminate Your Ambiance with JHY DESIGN

JHY DESIGN is more than a brand; it's a commitment to quality, elegance, and timeless allure. Our Outdoor Candle Lanterns, especially the Set of 2 measuring 19.5" and 13" tall, are a testament to our unwavering dedication to excellence. Choose JHY DESIGN and let us illuminate your world with panache and grace. Experience the difference that JHY DESIGN lighting brings to your spaces.
With JHY DESIGN, light transcends mere illumination; it becomes an expression of artistry. We're honored to be your chosen lighting partner.
Regular price

Sale price

$34.99
Choosing a selection results in a full page refresh.
Your cart
Recommendations