By

JHY DESIGN
19''&15''&12'' H Stainless Steel Metal Candle Lantern Candle Holder with Clear Glass Panels(Set of 3 Gold)
Regular price
$136.99
Sale price
$129.99
Unit price
per
-5%
Couldn't load pickup availability
𝐄𝐱𝐩𝐞𝐜𝐭𝐞𝐝 𝐝𝐞𝐥𝐢𝐯𝐞𝐫𝐲: 𝟓-𝟕 𝐝𝐚𝐲𝐬 𝐟𝐫𝐨𝐦 𝐨𝐫𝐝𝐞𝐫 𝐜𝐨𝐧𝐟𝐢𝐫𝐦𝐚𝐭𝐢𝐨𝐧 𝐝𝐚𝐭𝐞
🚚 𝙁𝙧𝙚𝙚 𝙨𝙝𝙞𝙥𝙥𝙞𝙣𝙜 𝙤𝙣 𝙤𝙧𝙙𝙚𝙧𝙨 𝙤𝙫𝙚𝙧 59𝙐𝙎𝘿
---
Availability:
52 in stock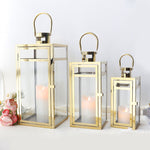 Regular price
$136.99
Sale price
$129.99
Gold
JHY DESIGN's Stainless Steel Outdoor Lanterns: A Blend of Elegance, Durability, and Versatility

JHY DESIGN, a leader in the world of home decor and lighting solutions, proudly presents its range of Stainless Steel Outdoor Lanterns, combining sophistication, longevity, and adaptability. With a plethora of products under our name, such as battery lamps, outdoor lanterns, and electronic candle lights, we strive to offer a diverse array of options for our valued customers. We excel in creating unique furniture and decorative pieces, ensuring each item stands as a representation of our dedication to design, utility, and client contentment. Choosing JHY DESIGN is synonymous with embracing a tradition of excellence.

Elegance of Stainless Steel Outdoor Lanterns

Within the extensive spectrum of decorative lighting, JHY DESIGN's Stainless Steel Outdoor Lanterns are an epitome of elegance and enduring charm. Every lantern is intricately designed to become the centerpiece in various environments, whether it be tranquil garden gatherings or romantically lit outdoor matrimonies. Explore the enchanting range of JHY DESIGN's Outdoor Lanterns and experience the transformative allure of illumination.

Diverse Applications of JHY DESIGN's Outdoor Lanterns

Garden Illumination

Our Led Candle Lanterns can be aesthetically placed throughout gardens, radiating a welcoming and charming light.
These lanterns accentuate the beauty of garden elements, crafting a scenic and harmonious atmosphere, ideal for nightly unwinding.
The elegant stainless steel complements the organic aura of the outdoors, establishing them as perfect companions for serene relaxation.
Wedding Enchantment

The lanterns act as magical centerpieces at outdoor weddings, blanketing tables in a romantic luminescence.
Suspended from branches or positioned along paths, they navigate guests with their subtle, embracing light.
The amalgamation of clear glass and stainless steel infuses a retro charm into the wedding ambiance.
Patio and Veranda Glow

Amplify the appeal of your patios and verandas with our Stainless Steel Outdoor Hanging Lanterns, setting a cozy milieu for nocturnal gatherings.
The resilient stainless steel build guarantees lastingness, presenting them as trustworthy illuminators for external areas.
The lanterns are also suitable for enlightening walkways, assuring secure passage during the darker hours.
Indoor Sophistication

Although primarily conceived for the outdoors, these versatile lanterns also beautify internal spaces.
Position them on tables, shelves, or mantels to infuse an elegant radiance into your indoor decor.
Their timeless design harmoniously integrates with various interior motifs, from rustic to modern.
Product Description and Features

The Set of 3 Stainless Steel Metal Christmas Lanterns by JHY DESIGN is more than just a lantern set; it is a work of art. Crafted with durable stainless steel and transparent glass panels, this set brings a classic yet contemporary style to any setting. The dimensions of 19", 15", and 12" height make it adaptable to different spaces. Be it tabletops, porches, or event centerpieces, these lanterns promise to enchant.

Illuminate Your Spaces with JHY DESIGN

JHY DESIGN is not merely a brand; it's a pledge to quality, elegance, and everlasting style. Our Stainless Steel Camping Lanterns, particularly the Set of 3, underline our commitment to superior quality. Opt for JHY DESIGN, and let us illuminate your spaces with sophistication and grace.
-20%

Regular price

$34.99

-21%

Sale price

$27.99
Choosing a selection results in a full page refresh.