By

JHY DESIGN
18"x 8''x11.5" Portable Tabletop Fireplace–Clean-Burning Bio Ethanol Ventless Fireplace
Regular price
Sale price
$99.99
Unit price
per
Couldn't load pickup availability
𝐄𝐱𝐩𝐞𝐜𝐭𝐞𝐝 𝐝𝐞𝐥𝐢𝐯𝐞𝐫𝐲: 𝟓-𝟕 𝐝𝐚𝐲𝐬 𝐟𝐫𝐨𝐦 𝐨𝐫𝐝𝐞𝐫 𝐜𝐨𝐧𝐟𝐢𝐫𝐦𝐚𝐭𝐢𝐨𝐧 𝐝𝐚𝐭𝐞
🚚 𝙁𝙧𝙚𝙚 𝙨𝙝𝙞𝙥𝙥𝙞𝙣𝙜 𝙤𝙣 𝙤𝙧𝙙𝙚𝙧𝙨 𝙤𝙫𝙚𝙧 59𝙐𝙎𝘿
---
Availability:
50 in stock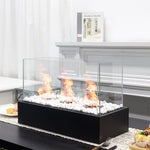 Regular price
Sale price
$99.99
Black
Elevate Your Space with JHY DESIGN's Square Tabletop Fire Bowl Pot with Four-Sided Glass
In a world where style meets substance, the timeless charm of a fireplace continues to captivate us. JHY DESIGN proudly presents the Square Tabletop Fire Bowl Pot, a masterpiece that effortlessly combines the classic allure of traditional fireplaces with the contemporary elegance of modern design.
Material & Durability: At the heart of our outdoor fireplaces lies a harmonious blend of premium stainless steel and tempered four-sided glass. This impeccable fusion ensures that our fireplace not only exudes elegance but also stands the test of time, promising to be a lasting centerpiece in your home.

Dimensional Perfection: Measuring at a convenient 17.72 x 8.27 x 11.42 inches, our fireplace effortlessly fits into any setting, whether it's a cozy corner of your living room or a captivating centerpiece for your dining area.
Aesthetics: The sleek, sophisticated black metal base, complemented by the crystal clarity of four-sided glass, creates a minimalist yet captivating visual appeal. This product is a testament to JHY DESIGN's unwavering commitment to impeccable fireplace design, seamlessly blending form and function.
JHY DESIGN Square Tabletop Fire Bowl Pot
Say goodbye to the limitations of traditional installations. Our fire bowl pot runs on clean-burning bio ethanol fuel, eliminating the need for cords and providing a hassle-free and elegant heating experience that complements modern living.
Cordless Luxury:

Bid farewell to traditional installations. Our fire bowl pot requires no cords, offering a hassle-free experience.

Safety First: The clear tempered glass not only accentuates the aesthetic appeal but also provides a protective barrier, ensuring safety while you enjoy the dancing flames.
Sturdy Metal Framework: Constructed with top-notch metal, the structure promises durability and stability. It's not just a product; it's a long-term investment for your home.
Benefits of Choosing Bio Ethanol Fireplaces

This meticulously designed portable fireplace illuminates and warms both indoor and outdoor spaces with its avant-garde aesthetics and state-of-the-art construction, redefining the essence of fireplace elegance.

Eco-friendly Ambiance:

 

Unlike traditional fireplaces, a bio ethanol fireplace offers an environmentally friendly heating solution. Experience the enchantment of flames without harming our planet.

Space Savvy: Given its compact design, it becomes an ideal choice for urban homes where space is a premium.
Design Flexibility: Without the constraints of chimneys and vents, the JHY DESIGN tabletop fireplace offers unparalleled design flexibility, making it a favorite among interior designers and architects.
Clean & Efficient: Say goodbye to the mess of ash and soot. This fireplace promises a clean burn, ensuring your home remains spotless.
Diverse Applications for Every Setting
In a world where aesthetics seamlessly merge with functionality, JHY DESIGN stands as a pioneer in providing innovative heating solutions. Our latest offering, the Rectangular Tabletop Bio Ethanol Fireplace, epitomizes our commitment to quality, design, and innovation.
Romantic Evenings: Set the mood for a romantic evening with your loved one, with the soft glow of the decorative fireplace as your backdrop.

Outdoor Gatherings: Elevate your garden parties and outdoor gatherings, adding warmth and sophistication.

Restaurant and Café Decor: Create a memorable dining experience for your patrons, adding an aura of luxury.

Relaxation Nook: After a long day, unwind by the gentle flames, letting the stress melt away.
Craftsmanship Meets Contemporary Design
Crafted from a blend of premium stainless steel and four-sided glass, our fire bowl pot radiates undeniable luxury. The transparent glass provides a striking contrast to the robust metal base, showcasing our meticulous attention to design details. With dimensions of 17.72 x 8.27 x 11.42 inches, it's an ideal addition to various spaces, from expansive living rooms to cozy bedroom corners.
The Ethanol Gel Advantage
No more mess and hassle. JHY DESIGN's modern fireplaces uses Ethanol Gel as its power source. This guarantees a cleaner burn and effortless use, eliminating the need for wood logs, ash residues, and overwhelming smoke. Ethanol Gel is an eco-friendly fuel choice, allowing you to enjoy the warmth while contributing to a healthier environment.
Freestanding: A Versatile Choice
The freestanding installation type adds to its versatility. Whether you're redecorating your home or simply wish to change its location, this fireplace offers the flexibility to do so without any fuss. The stand-alone feature is particularly useful for renters or those who prefer an ever-evolving home layout.
JHY DESIGN's Rectangular Tabletop Bio Ethanol Fireplace is not just a heating appliance; it's a statement of modern luxury. A perfect blend of cutting-edge technology and chic design, this fireplace will revolutionize your living space. Experience warmth like never before, wrapped in the luxurious embrace of JHY DESIGN's craftsmanship. Welcome the future of modern heating into your home today.
-20%

Regular price

$34.99

-21%

Sale price

$27.99
Choosing a selection results in a full page refresh.