By

JHY DESIGN
17.5''&13.5" High Set of 2 Metal Candle Lanterns(Black)
Regular price
Sale price
$69.99
Unit price
per
Couldn't load pickup availability
𝐄𝐱𝐩𝐞𝐜𝐭𝐞𝐝 𝐝𝐞𝐥𝐢𝐯𝐞𝐫𝐲: 𝟓-𝟕 𝐝𝐚𝐲𝐬 𝐟𝐫𝐨𝐦 𝐨𝐫𝐝𝐞𝐫 𝐜𝐨𝐧𝐟𝐢𝐫𝐦𝐚𝐭𝐢𝐨𝐧 𝐝𝐚𝐭𝐞
🚚 𝙁𝙧𝙚𝙚 𝙨𝙝𝙞𝙥𝙥𝙞𝙣𝙜 𝙤𝙣 𝙤𝙧𝙙𝙚𝙧𝙨 𝙤𝙫𝙚𝙧 59𝙐𝙎𝘿
---
Availability:
20 in stock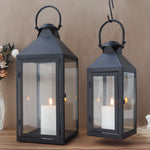 Regular price
Sale price
$69.99
Grey
JHY DESIGN's Set of 2 Metal Candle Outdoor Lanterns: A Symphony of Elegance and Functionality
JHY DESIGN stands as a pillar in the lighting and home décor industry, skillfully melding quality and aesthetic in our array of sublime decorative solutions. Nestled under the prestigious name of JHY DESIGN, our extensive collection encompasses battery lamps, outdoor lanterns, alcohol lamps, and electronic candle lights, among others. Our craftsmanship doesn't stop at lighting; we are also masters in the intricate art of producing elegant furniture and assorted decorative items. Choosing a piece from JHY DESIGN is not merely a purchase; it's an investment in a tradition of excellence, exemplifying our unwavering dedication to design integrity, functionality, and consumer contentment.

Set of 2 Metal Candle Outdoor Lanterns: The Quintessence of Timeless Allure
Emerging from the extensive catalog of JHY DESIGN, the Set of 2 Metal Candle Outdoor Lanterns are a beacon of timeless elegance and sophistication. These outdoor lanterns, meticulously shaped and designed, serve as magnificent focal points in diverse environments—from the tranquil elegance of garden soirées to the intimate ambiance of outdoor weddings. Immerse yourself in the enchanting realm of JHY DESIGN's Outdoor Lanterns and experience the transformative essence of illumination.

Applications of JHY DESIGN's Set of 2 Metal Candle Outdoor Lanterns in Varied Environments
JHY DESIGN's outdoor lanterns infuse gardens with a warm and welcoming radiance, accentuating distinct features of the landscape and establishing a harmonious interaction with the natural surroundings. Their distinguished vintage appeal enhances the aesthetic of outdoor spaces, rendering them idyllic retreats for nocturnal relaxation.

In the realm of outdoor nuptials, these lanterns manifest as magical centerpieces, dispersing a romantic luminosity across tables. Suspended from tree branches or aligned along pathways, they guide attendees with their gentle, inviting light, while their amalgamation of metal and transparent glass injects a vintage allure into the wedding scene.

Elevate the charm of your patio or porch with JHY DESIGN's Camping Lanterns, crafting a snug ambiance for nightly congregations. Their robust metal constitution guarantees enduringness, positioning them as steadfast lighting companions for external locales. Additionally, these lanterns illuminate walkways, safeguarding nocturnal traversing.

Despite their primary conception for outdoor placements, these christmas lanterns adeptly embellish indoor environments. Station them on tables, shelves, or above fireplaces to interject a dash of elegance into your internal spaces. Their retro design harmoniously corresponds with diverse interior decors, ranging from rustic to modern.

Product Description and Features
JHY DESIGN's 17.5" & 13.5" High Set of 2 Metal Candle Lanterns are not your ordinary lanterns; they are a manifestation of craftsmanship and design prowess. Constructed with resilient metal and fortified glass panels, these lanterns epitomize a vintage style that straddles both classic and contemporary realms. Their dimensions make them versatile for an array of settings, whether perched on a table, dangling from your porch, or serving as enchanting centerpieces at events, their presence is captivating. With JHY DESIGN's assurance of quality, durability is never in question.
Illuminate Your World with JHY DESIGN
JHY DESIGN transcends being a mere brand; it embodies a commitment to quality, elegance, and enduring beauty. Our Set of 2 Metal Candle Hanging Lanterns is a true representation of our devotion to excellence. Select JHY DESIGN and allow us to illuminate your world with unparalleled style and grace, through our distinguished outdoor lanterns.
-20%

Regular price

$34.99

-21%

Sale price

$27.99
Choosing a selection results in a full page refresh.