By

JHY DESIGN
16"x4" JHY Rectangle Black Cement Fireplace Modern Fire Pit
Regular price
Sale price
$68.00
Unit price
per
Couldn't load pickup availability
Availability:
30 in stock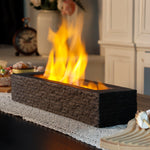 Regular price
Sale price
$68.00
Elevating Ambiance: LUXAIRE's 16"x4" Tabletop Cement Fireplace
*Material: Cement

*Product Size: 16"x4"

*Color: Deep black cement with realistic stone texture

*Cement Structure: Strong and durable

A JEWEL OF MODERN DESIGN: Sculpted from rich black cement with an authentic stone texture, complemented by the mesmerizing flame, this fireplace enhances the opulence of any setting.

Key Features:

Solid Cement Build: Crafted for durability and resilience, ensuring a long-lasting addition to your decoration.

Realistic Stone Texture: Boasting an authentic stone texture, the deep black cement lends a touch of nature-infused elegance to any space.

Artistic Statement: More than just a source of warmth, it stands as a piece of art, with its meticulously designed shape and the entrancing dance of its flames.
Sustainable and Stylish: The Clean-Burning Bioethanol Fireplace
With a commitment to sustainable elegance, JHY DESIGN offers this innovative fireplace solution, utilizing clean-burning bioethanol. This feature ensures a mesmerizing real flame experience without the traditional hassles, providing an environmentally friendly, emission-free experience.
Aesthetic and Warmth: Modern Fireplace Style Statement
This fireplace isn't merely about heating; it's an artistic statement piece. The sleek tempered glass, coupled with stainless steel accents, complements diverse interior styles, making it an aesthetic masterpiece for modern living spaces.
Contemporary Form and Function: Sleek and Sophisticated
The sleek and sculpted rectangular design of this tabletop fireplace, enclosed within transparent glass, transcends mere functionality; it's an aesthetic statement. Its unique shape, reminiscent of modern art, marries the utilitarian with the avant-garde, introducing a captivating contemporary flair to any space, indoors or outdoors.
Versatile Hearth for Varied Events: Shaping Gatherings
With its distinctive form and portable nature, this bio ethanol fireplace is the perfect choice for a range of events. Its sculpted design and alluring flames breathe life into diverse settings, shaping the ambiance with modern charm, and transforming gatherings into memorable experiences.
Secure and Seamless Fireplace Experience: Safety and Form
Safety is paramount at JHY DESIGN, and this indoor fireplace is not only a visual masterpiece but also a secure haven of warmth. Enjoy its sculpted beauty and soothing flames with absolute peace of mind, thanks to the inclusion of a formulaic square fire extinguisher, letting its harmonious fusion of form and fire enrich your living spaces.
Durable Sculptural Craftsmanship of
 

Fireplace Decor

: Artistic Resilience

Crafted with meticulous precision, the robust construction of black cast iron and four-sided glass guarantees durability and longevity. The resilient materials not only fortify fireplace decor unique form but also accentuate its sculptural elegance, promising enduring artistry and sustained functionality.
IMPORTANT SAFETY MEASURES
1. 130ml ethanol is enough to fill the tabletop fireplace. With 130ml ethanol, it can last burning about 1 hour with charming lights.
2. Do not smoke while filling the fuel pot.
3. For extra protection, as with all items with open flames, keep an easily accessible fire extinguisher nearby.
4. Use only approved liquid ethanol for tabletop fireplaces. Do not use any other combustible, such as bio-ethanol car fuel.
5. Do not use the fireplace to cook food or heat water.
6. Do not move fireplace while lit.
7. Never leave the lit fireplace unattended.
8. No need to take off the white fiberglass which is used for absorbing ethanol.
INSTALLATION
1. Choose a location 4ft away from any flammable objects or materials (drapes, fabrics, etc.)
2. Be sure to remove all packing materials, cardboard, plastic, film, etc.
3. The fireplace is intended to be used indoor or outdoor, placed on a tabletop or stable surface.
MAINTENANCE AND CARE
1. The burner's hue might vary with heat. Regular upkeep ensures consistent color.
2. Employ a damp cloth for the fireplace's exterior cleaning.
3. Periodic cleaning ensures optimal performance.
4. Do not clean with water or put in a dishwasher. Wipe down the glass surfaces with a warm, damp cloth.
Immerse yourself in the LUXAIRE experience, where intricate design meets unparalleled functionality. With this modern fireplace, elevate your ambiance, making every moment special.
Regular price

Sale price

$34.99
Choosing a selection results in a full page refresh.
Your cart
Recommendations