By

JHY DESIGN
15''H Outdoor Candle Lanterns Vintage Metal Candle Holder
Regular price
$32.99
Sale price
$29.99
Unit price
per
-$3.00
Couldn't load pickup availability
Availability:
30 in stock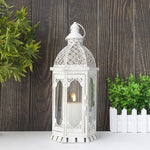 Regular price
$32.99
Sale price
$29.99
A Symphony of Elegance: 15"H Outdoor Lanterns by JHY DESIGN
JHY DESIGN is a hallmark of sophistication, a brand renowned for intertwining luxurious elegance with impeccable quality. Our craft revolves around sculpting homely atmospheres through our diverse range of products—outdoor lanterns, battery lamps, electronic candle lights, and a multitude of other decorative pieces, each piece radiating its unique charm.

Elevate Every Moment with our 15"H Outdoor Lanterns
JHY DESIGN's 15"H Outdoor Lanterns are timeless treasures in the universe of decorative lighting. Every outdoor lantern is a piece of art, meticulously crafted to be the highlight of any setting, whether it be a serene garden party or a magical outdoor wedding. They resonate with the essence of JHY DESIGN, embodying the spectacular dance between light and meticulous design, ensuring every moment is bathed in their enchanting glow.

Diverse Scenarios of Elegance

Garden Glow

Each christmas decorated lanterns spins a soft, warm light, making gardens a haven of tranquility and allure.
Placed strategically, they elevate the beauty of garden elements, rendering every outdoor space a picturesque realm.
Their vintage elegance elevates the aesthetic quotient of the surroundings, crafting serene and harmonious atmospheres.
Wedding Elegance

They grace outdoor wedding venues with their exquisite and romantic illumination, serving as mesmerizing decor elements.
Suspended from branches or aligned along pathways, they lead the guests with their gentle glow, adding to the venue's charm.
Their combination of rustic metal and crystal-clear glass infuses vintage elegance into every wedding setting.
Patio and Porch Harmony

The resilient metal build of the lanterns promises long-lasting elegance, rendering them perfect companions for patios and porches.
Integrating these lanterns transforms any outdoor space into a cozy retreat, an ideal setting for warm gatherings.
Illuminating pathways, they ensure secure navigation throughout the night, blending safety with style.
Indoor Aesthetic

Though primarily conceptualized for the outdoors wall lantern, the versatile nature of these lanterns makes them exquisite additions to indoor spaces.
Placed strategically within rooms—on tables, shelves, or mantelpieces—they become focal points of elegance.
The lanterns' harmonious blend of vintage and modern aesthetics seamlessly integrates with various interior designs, enhancing the overall appeal.
The Artistic Brilliance: Distinctive Features
The 15"H Decorative Outdoor Camping Lantern by JHY DESIGN transcends being just a lantern—it is a symphony of artistic brilliance and meticulous craftsmanship. The fusion of durable metal and pristine glass panes emanates a vintage charm, adaptable to a myriad of settings. It stands as a testament to the enduring allure and unparalleled quality of JHY DESIGN, captivating every observer with its intricate details.

JHY DESIGN: Crafting Light and Elegance
JHY DESIGN is more than a brand; it's a testament to refined aesthetics and enduring elegance. Our 15"H Candle Lanterns are embodiments of our unwavering dedication to superior quality and design mastery. Choose JHY DESIGN to enliven your spaces with a harmonious blend of light and unparalleled elegance, and experience the beauty of masterful craftsmanship.
Regular price

Sale price

$29.99
Choosing a selection results in a full page refresh.
Your cart
Recommendations