Regular price
$79.99
Sale price
$59.99
Unit price
per
-25%
Couldn't load pickup availability
𝐄𝐱𝐩𝐞𝐜𝐭𝐞𝐝 𝐝𝐞𝐥𝐢𝐯𝐞𝐫𝐲: 𝟓-𝟕 𝐝𝐚𝐲𝐬 𝐟𝐫𝐨𝐦 𝐨𝐫𝐝𝐞𝐫 𝐜𝐨𝐧𝐟𝐢𝐫𝐦𝐚𝐭𝐢𝐨𝐧 𝐝𝐚𝐭𝐞
🚚 𝙁𝙧𝙚𝙚 𝙨𝙝𝙞𝙥𝙥𝙞𝙣𝙜 𝙤𝙣 𝙤𝙧𝙙𝙚𝙧𝙨 𝙤𝙫𝙚𝙧 59𝙐𝙎𝘿
---
Availability:
Out of stock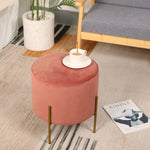 Regular price
$79.99
Sale price
$59.99
Red
Enhance Your Home's Visual Allure with JHY Design's Tall Ottoman


Elevating your home decor with both elegance and functionality is now effortlessly achievable, all thanks to JHY Design's Ottoman.This remarkable piece seamlessly blends style and practicality, allowing you to elevate the ambiance of your living space.


The Timeless Charm of JHY Design's Tall Ottoman


Craftsmanship & Signature Attributes:
JHY Design proudly introduces a meticulously crafted tall ottoman, a clear manifestation of our unwavering dedication to excellence. Impeccably designed with intricate patterns and adorned with a unique texture, this ottoman infuses your living space with an irresistible charm that leaves a lasting impression.
Material, Texture & Durability:

Constructed from premium materials, this ottoman embodies not only durability but also visual allure.

Dimensions & Storage Capacity:
Material: Velvet
Color: Brick Red
Size: 15"D x 15"W x 15.5"H
Structure: Strong and durable
Standing tall at 15.5 inches, this ottoman makes a commanding statement in any room.
Colors, Finish & Aesthetic Appeal:
This vanity stool effortlessly integrates with a myriad of decor palettes. Its vintage finish, accentuated by intricate detailing, unveils the unparalleled craftsmanship behind its creation.

Structural Strength & Longevity:
A testament to its robust construction, the solid foundation ensures enduring charm and resilience. Serving as both a functional piece of furniture and an exquisite decorative element, it promises years of elegance and ambiance in your home.

Versatility & Installation:
Designed to complement all seasons and styles, this tall ottoman is suitable for various rooms and settings.


Crafting Inviting Ambiances Through the Gentle Radiance of the vanity stool

Beyond its role as a piece of furniture, this ottoman has the remarkable ability to sculpt environments. Its design fosters a gentle, diffused luminance that meticulously crafts captivating patterns and establishes a cozy, enchanting ambiance. Whether it graces your living room, bedroom, entryway, pathway, or dressing area, it adds a dash of sophistication and warmth to your space.

Revitalize your living space, infuse it with style, and effortlessly maintain practicality with JHY Design's Tall Ottoman. Explore the perfect fusion of aesthetics and utility, and elevate your home decor today. Discover it now at JHY Design Tall Ottoman.
-20%

Regular price

$34.99

-21%

Sale price

$27.99
Choosing a selection results in a full page refresh.