Regular price
Sale price
$39.99
Unit price
per
Couldn't load pickup availability
𝐄𝐱𝐩𝐞𝐜𝐭𝐞𝐝 𝐝𝐞𝐥𝐢𝐯𝐞𝐫𝐲: 𝟓-𝟕 𝐝𝐚𝐲𝐬 𝐟𝐫𝐨𝐦 𝐨𝐫𝐝𝐞𝐫 𝐜𝐨𝐧𝐟𝐢𝐫𝐦𝐚𝐭𝐢𝐨𝐧 𝐝𝐚𝐭𝐞
🚚 𝙁𝙧𝙚𝙚 𝙨𝙝𝙞𝙥𝙥𝙞𝙣𝙜 𝙤𝙣 𝙤𝙧𝙙𝙚𝙧𝙨 𝙤𝙫𝙚𝙧 59𝙐𝙎𝘿
---
Availability:
Low stock: 2 left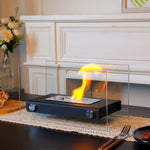 Regular price
Sale price
$39.99
Black
Illuminate Your Space with JHY DESIGN's 14" L Portable Tabletop Fireplace
In the realm of modern home aesthetics, the art of creating ambiance is evolving. Elevate the spirit of your spaces with JHY DESIGN's 14" L Portable Tabletop Fireplace, which seamlessly amalgamates function with finesse. Combining luxury with portability, this tabletop fireplace serves as a testament to contemporary design and innovation.
JHY DESIGN 14" L Portable Tabletop Fireplace
*Material: Metal, stainless steel &Tempered glass
*Product Size:14"L x 6.5"W x 7.5"H
*Color: Black metal, stainless steel, clear tempered glass
*Metal Structure: Strong and durable
A SIMPLE AND ELEGANT APPEARANCE FIRE PIT , with no ash or smoke, you can put it anywhere, perfect for your patio, living room, dinning room etc.
CLASSICAL AND DECENT DECORATIVE Crafted of metal, stainless steel and clear glass, along with the attractive dancing flame, add a sumptuous touch to your home.
Redefining Fireplace Dynamics:

Gone are the days when fireplaces required chimneys and extensive installations. JHY DESIGN has encapsulated the essence of fire in a compact, tabletop design. This bio ethanol fireplace requires no cords, no outlets, and no complications. Simply pour, light, and enjoy.
Artistic Aesthetics:Each fireplace, with its clear tempered glass and black metal base, serves as a masterpiece that complements and elevates your decor. Its rectangular form factor, coupled with the mesmerizing dance of the flames, makes it a centerpiece worth showcasing.
Ventless Brilliance:Powered by clean-burning bio ethanol, this indoor fireplace delivers a real flame experience without the smoke, ash, or soot. It offers the beauty of a traditional fireplace with an environmentally-conscious footprint.
Safety Meets Elegance:JHY DESIGN places paramount importance on safety. This tabletop fireplace has been meticulously designed to ensure secure use, even as it serves as a beacon of beauty. Revel in the calming flames with complete peace of mind.
Benefits of the JHY DESIGN Tabletop Fireplace

Ambiance Amplifier:Whether you're setting the scene for a romantic evening, a gathering of friends, or simply a tranquil evening alone, this fireplace ensures an ambiance like no other. The allure of its flames immediately captures attention, making any occasion memorable.
Versatile Application:Perfect for indoor spaces such as living rooms, bedrooms, and dining areas, it's equally adept at enhancing outdoor settings. Whether you're on your patio, terrace, or balcony, it brings warmth and style.

Eco-friendly Elegance:Elevate your spaces without harming the environment. This bio ethanol fireplace burns cleanly, ensuring you're not contributing to pollution while enjoying its warmth.

Applications of the JHY DESIGN 14" L Portable Tabletop Fireplace

Home Decor Delight: Introduce a dynamic focal point in your living room, study, or bedroom, enhancing the mood and design of your spaces.
Outdoor Enchanter: Perfect for garden parties, barbecues, or evening get-togethers, it adds a touch of magic under the stars.

Dining Enhancer: Set the stage for memorable meals, whether it's a special dinner or a casual brunch.

Workspace Wonder: Create a soothing environment in your office or workspace, aiding concentration and offering a break from the mundane.

Events and Venues: For event managers, it's an ideal addition to elevate the ambiance of weddings, functions, and other gatherings.

JHY DESIGN 14" L Portable Tabletop Fireplace encapsulates the blend of modern living with age-old allure. A fusion of practicality and panache, it stands as an emblem of what contemporary design can achieve. Revel in its brilliance, bask in its warmth, and let your spaces shine with unmatched elegance.
-20%

Regular price

$34.99

-21%

Sale price

$27.99
Choosing a selection results in a full page refresh.