By

JHY DESIGN
13.8" HWhite Tabletop Fireplace Iron Folding Base Decorative Ethanol Fire Pit
Regular price
Sale price
$69.99
Unit price
per
Couldn't load pickup availability
𝐄𝐱𝐩𝐞𝐜𝐭𝐞𝐝 𝐝𝐞𝐥𝐢𝐯𝐞𝐫𝐲: 𝟓-𝟕 𝐝𝐚𝐲𝐬 𝐟𝐫𝐨𝐦 𝐨𝐫𝐝𝐞𝐫 𝐜𝐨𝐧𝐟𝐢𝐫𝐦𝐚𝐭𝐢𝐨𝐧 𝐝𝐚𝐭𝐞
🚚 𝙁𝙧𝙚𝙚 𝙨𝙝𝙞𝙥𝙥𝙞𝙣𝙜 𝙤𝙣 𝙤𝙧𝙙𝙚𝙧𝙨 𝙤𝙫𝙚𝙧 59𝙐𝙎𝘿
---
Availability:
30 in stock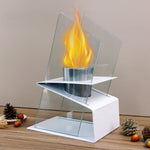 Regular price
Sale price
$69.99
White
Indoor Outdoor White Smooth Fireplace Metal Decorative Tabletop Fireplace Bio Ethanol Fire Pit
Introducing our Desktop Fireplace - a unique and elegant addition to your living space. Crafted with a blend of iron, stainless steel, and tempered glass, this exquisite piece combines functionality with aesthetics to create a mesmerizing focal point in any room.
Material Excellence
Our bio ethanol fireplace is constructed with high-quality iron, ensuring durability and stability. The stainless steel burner insert not only enhances its longevity but also adds a touch of modern sophistication. The tempered glass panels surrounding the flame create a captivating visual effect and provide an extra layer of safety.
Sleek and Stylish Design
The standout feature of our Desktop Fireplace is its smooth, white surface and irregular, avant-garde design. This unique blend of simplicity and complexity adds a touch of artistry to your space. Whether it's placed on your desk, coffee table, or mantel, it instantly becomes a conversation piece that complements any décor style.
Clean and Eco-Friendly Fuel
Powered by liquid alcohol fuel, this modern fireplace offers an eco-friendly alternative to traditional wood-burning options. The clean-burning flames produce minimal emissions and require no venting, making it an excellent choice for both the environment and indoor air quality.
Versatile Placement
The compact size and portable design of our Desktop Fireplace make it versatile in placement. Use it as a centerpiece for your dining table, a decorative accent for your living room, or a soothing addition to your bedroom. Its compact dimensions ensure it fits seamlessly into any space. 
Safety First
We understand the importance of safety, especially when it comes to fire. Our Desktop Fireplace is equipped with a safety snuffer tool, allowing you to extinguish the flame effortlessly. The tempered glass panels also provide a protective barrier, preventing accidental contact with the flames.
Easy to Use
Operating the Desktop Fireplace is a breeze. Simply pour the liquid alcohol fuel into the stainless steel burner cup, ignite it with a long lighter, and watch as the mesmerizing flames dance behind the glass panels. The adjustable flame control allows you to create the ambiance you desire, from a cozy, romantic setting to a warm and inviting atmosphere.
-20%

Regular price

$34.99

-21%

Sale price

$27.99
Choosing a selection results in a full page refresh.