Regular price
$23.99
Sale price
$19.99
Unit price
per
-$4.00
Couldn't load pickup availability
Availability:
20 in stock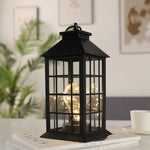 Regular price
$23.99
Sale price
$19.99
Elevate Your Decor with the 12" High Decorative Hanging Lantern from JHY DESIGN
Introducing the 12" High Decorative Hanging Lantern by JHY DESIGN, a sophisticated and versatile lighting solution designed to blend seamlessly with any decor style. This lamp set, with its timeless elegance, is perfect for illuminating both indoor and outdoor spaces, enhancing the ambiance of any environment.
Features of the JHY DESIGN 12" High Decorative Hanging Lantern
Elegant and Timeless Design
The lantern features a classic design that exudes sophistication, making it a stylish addition to any space, from living rooms to patios.


Cordless Convenience
Experience the freedom of placing this livng room lamps anywhere you desire, thanks to its cordless design, allowing you to avoid the hassle of dealing with cords and outlets.
Versatile Placement
The lantern's versatile design allows it to be hung or placed on a flat surface, providing you with multiple display options to suit your preferences and needs.
Suitable for Various Settings
Its elegant and timeless appeal makes this lantern a fitting choice for a variety of settings, including homes, gardens, and event venues.
Benefits of Using the 12" High Decorative Hanging Lantern
Enhanced Ambiance
This decorative lantern instantly elevates the ambiance of any space with its soft, warm glow, creating a cozy and inviting atmosphere.
Safety and Portability
The cordless design not only offers convenience but also eliminates the risks associated with tripping over cords, making it a safe and portable lighting option.
Flexible Decor Option
Whether used individually or in combination with other decor elements, this lantern adds a touch of elegance and sophistication to any environment.
Energy-Efficient Illumination
The modern lamp provides ample illumination while consuming minimal energy, making it an eco-friendly choice for lighting up your spaces.
Applications of JHY DESIGN 12" High Decorative Hanging Lantern
Home Decor: Perfect for creating a warm and cozy atmosphere in living rooms, bedrooms, or dining areas.
Outdoor Lighting: Ideal for illuminating patios, gardens, or balconies, enhancing the beauty of outdoor spaces.
Event Decoration: A stylish choice for adding a touch of elegance to weddings, parties, or other celebratory events.
Restaurant and Cafe Ambiance: This lantern can create a charming and intimate setting in eateries and cafes.
Conclusion
The 12" High Decorative Hanging Lantern from JHY DESIGN is a timeless and elegant lighting solution that offers versatility, convenience, and style. Its cordless design and sophisticated appeal make it a suitable addition to a plethora of settings, adding a warm and inviting glow to any environment. Whether you're looking to enhance your home decor or set the mood for an outdoor gathering, this decorative hanging lantern is bound to leave a lasting impression.
Regular price

Sale price

$34.99
Choosing a selection results in a full page refresh.
Your cart
Recommendations