By

JHY DESIGN
12'' High Metal Decorative Candle Lantern (RoseGold)
Regular price
Sale price
$29.99
Unit price
per
Couldn't load pickup availability
𝐄𝐱𝐩𝐞𝐜𝐭𝐞𝐝 𝐝𝐞𝐥𝐢𝐯𝐞𝐫𝐲: 𝟓-𝟕 𝐝𝐚𝐲𝐬 𝐟𝐫𝐨𝐦 𝐨𝐫𝐝𝐞𝐫 𝐜𝐨𝐧𝐟𝐢𝐫𝐦𝐚𝐭𝐢𝐨𝐧 𝐝𝐚𝐭𝐞
🚚 𝙁𝙧𝙚𝙚 𝙨𝙝𝙞𝙥𝙥𝙞𝙣𝙜 𝙤𝙣 𝙤𝙧𝙙𝙚𝙧𝙨 𝙤𝙫𝙚𝙧 59𝙐𝙎𝘿
---
Availability:
50 in stock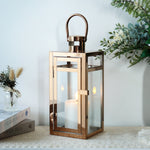 Regular price
Sale price
$29.99
JHY DESIGN's Exceptional Metal Decorative Lanterns: A Union of Elegance and Functionality
JHY DESIGN, an eminent name in the world of lighting and home décor, presents a unique array of tall outdoor lanterns, specifically the 12" High Metal Decorative Lantern Candle Holder, a classic embodiment of artistic excellence and utility. JHY DESIGN prides itself on crafting impeccable illumination and decorative solutions, striving to deliver unparalleled elegance and a seamless blend of design and functionality in every piece.

The Quintessence of Ageless Allure: Outdoor Lanterns
JHY DESIGN's outdoor lanterns are revered for their timeless allure and graceful aesthetics. Carefully constructed, these lanterns act as striking focal points in diverse settings, enhancing the ambiance of garden parties and bringing a whisper of romance to outdoor weddings. Discover the fascinating world of JHY DESIGN's outdoor lanterns and experience the enchanting interplay of light and shadow.

Varied Applications of JHY DESIGN's Outdoor Lanterns

Garden Setting

JHY DESIGN's camping lanterns cast an inviting and warm glow around gardens, creating a serene atmosphere.
These lanterns accentuate specific features of your garden, offering a scenic view and perfecting the environment for evening tranquility.
Wedding Décor
Serving as captivating centerpieces for outdoor weddings, these lanterns fill the tables with a romantic illumination.
Their distinct design, a harmonious blend of metal and glass, introduces a vintage charisma to wedding decorations, adding a touch of historical elegance.
Patio and Porch Enhancement

Integrate JHY DESIGN's decorated Christmas  lanterns into your patio or porch layout to cultivate a cozy ambiance for nocturnal gatherings.
The enduring metal structure guarantees longevity, establishing these lanterns as a trustworthy lighting option for external spaces.
Indoor Decoration

While primarily envisaged for external use, these lanterns' versatility makes them an exquisite addition to indoor spaces as well.
Their historic design effortlessly integrates with diverse interior décor themes, enriching rustic to contemporary styles with ease.
Product Insights and Characteristics
The 12" High Metal Decorative Lantern Candle Holder from JHY DESIGN is not merely a lantern; it's an artistic masterpiece. The combination of resilient metal and crystal-clear glass panels proclaims a vintage style, radiating a historic charm that is simultaneously classic and modern. With its compact dimensions, it suits a plethora of settings, whether it's adorning a table, gracing a porch, or illuminating events as a centerpiece.

JHY DESIGN: Illuminating Lives with Elegance
JHY DESIGN is not just a brand; it's a commitment to providing premium quality, unparalleled elegance, and enduring designs. Our outdoor hanging lanterns, especially the 12" High Metal Decorative Lanterns, epitomize our dedication to excellence. Choose JHY DESIGN and allow us to brighten your world with our timeless elegance and sophisticated designs.
-20%

Regular price

$34.99

-21%

Sale price

$27.99
Choosing a selection results in a full page refresh.