By

JHY DESIGN
11''High Remembrance Lantern with Timer Candle Bereavement Sympathy Gift Memorial Lantern (Grey)
Regular price
Sale price
$32.99
Unit price
per
Couldn't load pickup availability
𝐄𝐱𝐩𝐞𝐜𝐭𝐞𝐝 𝐝𝐞𝐥𝐢𝐯𝐞𝐫𝐲: 𝟓-𝟕 𝐝𝐚𝐲𝐬 𝐟𝐫𝐨𝐦 𝐨𝐫𝐝𝐞𝐫 𝐜𝐨𝐧𝐟𝐢𝐫𝐦𝐚𝐭𝐢𝐨𝐧 𝐝𝐚𝐭𝐞
🚚 𝙁𝙧𝙚𝙚 𝙨𝙝𝙞𝙥𝙥𝙞𝙣𝙜 𝙤𝙣 𝙤𝙧𝙙𝙚𝙧𝙨 𝙤𝙫𝙚𝙧 59𝙐𝙎𝘿
---
Availability:
50 in stock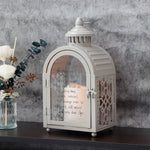 Regular price
Sale price
$32.99
JHY Design: The Beacon of Serenity and Tribute
At JHY Design, we are celebrated for our artisanship in creating an array of refined lighting and elegant home décor. Our assortment of exquisite products spans from
outdoor lanterns
to sophisticated battery lamps, and from the quaint charm of alcohol lamps to the modern tranquility of electronic candle lights. With JHY DESIGN, acquiring a piece transcends the mere act of purchase—it is about embracing a masterpiece that exudes superior quality, impeccable design, and multifunctional elegance, all while coalescing seamlessly with your cherished living spaces.
11'' High Remembrance Lantern: An Ode to Lasting Memories
Our 11" High Remembrance Lantern in soothing Grey stands as a testament to undying memory and tribute. Each lantern is a crafted work of precision, designed not just to light up a space but to also offer solace and comfort during reflective moments of remembrance. The
lantern
comes equipped with a timer candle, symbolizing the perpetual presence of those we hold dear in the warm embrace of remembrance. The soft, flickering light coupled with an elegantly engraved memorial poem enhances the emotional resonance, rendering these lanterns a sincere and considerate token of sympathy.
Versatile Elegance: A Gift of Heartfelt Remembrance
Our Grey Remembrance Lantern is a beacon of remembrance, perfect for placement at memorial services or as a tranquil piece for contemplative spaces at home. It emanates a soft illumination that reflects the undying nature of cherished memories.

Enhanced with a memorial poem, this lantern with its timer candle is an exemplary sympathy gift. It offers a profound way to convey condolences and share in the sorrow of those mourning, a gift that is thoughtful as it is meaningful.

Embodying the metaphorical eternal flame, this Remembrance Lantern becomes a source of light that never extinguishes. It brings a sense of warmth and quiet reflection to any setting, symbolizing eternal love and the spirit of remembrance that lasts beyond lifetimes.

Product Excellence and Features
The 11" High Grey Remembrance Lantern is crafted with care from durable materials, assuring longevity as a beloved memento. This Christmas lantern, adorned with a heartfelt memorial poem, stands as a sensitive and compassionate expression of condolence. It is designed for versatility, offering its calming light both indoors and outdoors, and providing comfort during times of reflection with its automatic timer candle.
Illuminate with Heart: JHY Design
Choosing JHY Design means opting for an object that is not only functional but filled with meaning and sentiment. Our 11" high outdoor Grey Remembrance Lantern is a hallmark of our commitment to excellence. It is more than a product—it is a companion in moments of solitude and a symbol of perpetual love and memory. Choosing JHY DESIGN means opting for elegance, and thoughtful design, allowing us to illuminate your spaces and your memories with grace and compassion.

Lighting up Lives with Thoughtfulness: JHY DESIGN
The JHY Design Remembrance Lanterns are more than just a luminary—they are beacons of enduring love and cherished memories. Exquisitely designed with an etched memorial poem, they stand as emblems of comfort and compassion. These lanterns, hanging with grace, are meaningful symbols that shine upon the everlasting bonds we share with those who have departed. With JHY DESIGN, let us illuminate your spaces and hearts with warmth, comfort, and elegant design.
-20%

Regular price

$34.99

-21%

Sale price

$27.99
Choosing a selection results in a full page refresh.