By

JHY DESIGN
11''High Remembrance Lantern with Memorial Poem Bereavement Sympathy Gift Memorial Lantern (Grey)
Regular price
Sale price
$27.99
Unit price
per
Couldn't load pickup availability
𝐄𝐱𝐩𝐞𝐜𝐭𝐞𝐝 𝐝𝐞𝐥𝐢𝐯𝐞𝐫𝐲: 𝟓-𝟕 𝐝𝐚𝐲𝐬 𝐟𝐫𝐨𝐦 𝐨𝐫𝐝𝐞𝐫 𝐜𝐨𝐧𝐟𝐢𝐫𝐦𝐚𝐭𝐢𝐨𝐧 𝐝𝐚𝐭𝐞
🚚 𝙁𝙧𝙚𝙚 𝙨𝙝𝙞𝙥𝙥𝙞𝙣𝙜 𝙤𝙣 𝙤𝙧𝙙𝙚𝙧𝙨 𝙤𝙫𝙚𝙧 59𝙐𝙎𝘿
---
Availability:
50 in stock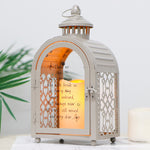 Regular price
Sale price
$27.99
JHY Design: Luminary Elegance of Remembrance Lanterns
JHY Design is universally recognized for its exceptional craft in creating versatile lighting and aesthetic home décor. We specialize in a plethora of high-quality products, including outdoor lanterns, battery lamps, alcohol lamps, and electronic candle lights. JHY DESIGN is not merely about purchasing a product; it is about acquiring a piece of art that resonates with quality, design, and functionality, blending seamlessly into your living spaces.

Remembrance Lanterns: A Symbol of Eternal Memory
JHY Design's Remembrance Lanterns are meticulously designed, serving as a beacon of enduring beauty and timeless memorials. Each camping lantern  is crafted with precision, intending to offer solace and comfort during times of bereavement and reflection. The engraved memorial poem accentuates the sentiment, making these lanterns a heartfelt and thoughtful sympathy gift.

Application of Remembrance Lanterns in Varied Settings

JHY Design's candle lanterns are not just simple lighting fixtures but are symbolic pieces that convey remembrance and reverence. They're perfect to be placed in memorial services or quiet reflective corners in homes, emitting a gentle glow that signifies eternal memories.

The thoughtful incorporation of memorial poems in the design makes these lanterns an ideal bereavement or sympathy gift. It is a meaningful way to express condolences and share in the grief of loved ones.

These lanterns hold the metaphorical eternal flame, a light of memory that never fades. They bring warmth and contemplation to any space, be it indoor or outdoor, signifying eternal love and remembrance.

Product Details and Features
JHY Design's 11" High Remembrance Lantern is more than a decorative piece; it's a symbol of love and memory. This  Christmas lantern is intricately designed with a memorial poem, making it a sensitive and considerate bereavement gift. Crafted meticulously with durable materials, it is destined to last, keeping the memories alive. Whether it is placed indoors as a decorative piece or outdoors, illuminating a quiet corner, it radiates a calming light, providing solace during times of reflection.

Illuminate with JHY Design
JHY Design is not just a brand; it's a harmonious blend of style, quality, and timeless beauty. Our Remembrance Lanterns, particularly the 11" high outdoor lantern, embody our unwavering commitment to excellence. Choosing JHY DESIGN means opting for elegance, and thoughtful design, allowing us to illuminate your spaces and your memories with grace and compassion.

Lighting up Lives with JHY DESIGN
JHY Design's Remembrance Lanterns are embodiments of enduring love and everlasting memories. The exquisite design and the etched memorial poem make them an emblem of compassion and solace. These hanging lanterns are not just decorative items; they are meaningful symbols, shedding light on the eternal bond shared with the departed souls. Embrace the elegance and thoughtful design of JHY DESIGN and let our creations bring warmth and comfort to your hearts and homes.
-20%

Regular price

$34.99

-21%

Sale price

$27.99
Choosing a selection results in a full page refresh.