Regular price
$25.99
Sale price
$22.99
Unit price
per
-$3.00
Couldn't load pickup availability
Availability:
50 in stock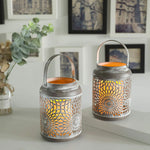 Regular price
$25.99
Sale price
$22.99

Brighten Your Celebrations with JHY Design's Candle Holders Set


Experience the Refined Charm of JHY Design's Lantern Candle Holders
Candle holders have long transcended their functional roles, becoming aesthetic centerpieces in various settings. They're not merely about holding candles but setting tones, especially when combined with the elegance of flameless LED candles.


Candle Holder's Craftsmanship & Special Features:

JHY Design's set of two metal candle holders is a masterful representation of metalwork finesse. Integrated with flameless LED candles, these holders promise both safety and a timeless glow, making them perfect companions for every occasion.


Candle Holder's Silhouette & Scale:

Standing gracefully at 6.5 inches, these candle holders encapsulate the essence of vintage aesthetics. Their intricate design makes them not just functional pieces but also ornamental delights that can elevate any table or setting.


Candle Holder's Application:

These holders shine in various settings, be it the warmth of your home, the vibrancy of wedding parties, or the elegance of special events. They're not just candle holders, but storytellers that add a touch of nostalgia and charm wherever they're placed.


Candle Holder's Color & Longevity:

Sporting a classic shade, these holders merge effortlessly with any décor theme. Their robust metal structure ensures they're not just visually enticing but also enduring, promising years of radiant memories.


Crafting Ambiance with the Candle Holder's Luminescence:
More than providing light, these candle holders with their flameless LED candles create moods. They bring to life an interplay of soft glows and subtle shadows, creating intimate spaces filled with stories and warmth.
Regular price

Sale price

$34.99
Choosing a selection results in a full page refresh.
Your cart
Recommendations