By

JHY DESIGN
Antique Grey Decorative Lanterns Metal Candle Lanterns ( Set of 2 )
Regular price
Sale price
$64.99
Unit price
per
Couldn't load pickup availability
Availability:
Low stock: 10 left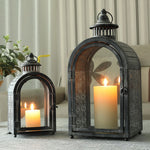 Regular price
Sale price
$64.99
JHY DESIGN's Outdoor Lanterns: Elevate Your Spaces with Elegance and Versatility

Renowned for producing unparalleled lighting and home décor artifacts, JHY DESIGN prides itself on its commitment to quality and distinctive designs. We specialize in an extensive range of products including outdoor candle lanterns, battery lamps, alcohol lamps, and electronic candle lights, meticulously crafted to enrich your spaces. With JHY DESIGN, you experience not just the allure of supreme quality, but also the charm of innovative décor solutions.


Outdoor Lanterns: A Symphony of Timeless Elegance

JHY DESIGN's Outdoor Lanterns epitomize the fusion of timeless elegance and intricate craftsmanship. The Set of 2 Black with Grey Brush Decorative Lanterns, distinctive in its vintage style, is meticulously crafted to be the highlight, enriching various ambiances from serene garden gatherings to romantic, enchanting outdoor weddings. Delve into the enchanting spectrum of JHY DESIGN's Outdoor Lanterns and experience the transformative elegance of illuminative artistry.

Diverse Scenarios of Application
Enchanting Garden Glow
These outdoor lanterns hanging weave a magical tapestry of light within gardens, creating a picturesque ambiance for every gathering.
Strategically placed, they emphasize garden features, adding a layer of mystique and charm to the natural beauty.
Their detailed vintage design intensifies the aesthetic appeal, providing an immersive experience of relaxation and tranquility.
Romantic Wedding Elegance

Serving as captivating centerpieces in outdoor weddings, these lanterns imbue every table with a soft, romantic glow.
Whether suspended from the sturdy branches of an old tree or adorning the pathways, their delicate light guides guests through a fairy-tale setting.
The amalgamation of resilient metal and crystal-clear glass augments the vintage allure, amplifying the wedding décor's romantic vibe.
Cozy Patio Illumination

Enhance the coziness of your patio or porch with the warm glow of these lanterns, making every evening gathering an unforgettable experience.
Their durable construction ensures sustained elegance, emphasizing their reliability and longevity as lighting options for varied outdoor spaces.
Illuminating every step, these lanterns for camping are the quintessential companions for safe and stylish nighttime navigation.
Indoor Vintage Charm

Beyond their outdoor brilliance, the versatility of these lanterns manifests elegantly within indoor settings.
Position them atop shelves or along staircases to interweave a touch of vintage charm within contemporary interiors.
Product Description and Details
The set of two metal candle lanterns from JHY DESIGN is not merely a lighting solution; it is a work of art. With sleek black and subtle grey brush strokes, this set exemplifies the classical elegance inherent to vintage-style decorative lanterns. The robust metal ensures lasting durability, while the clear glass panels allow for a mesmerizing dance of light and shadow, making them a versatile décor piece for any event, indoor or outdoor.
Illuminate with JHY DESIGN

JHY DESIGN is not just a brand; it is a beacon of quality, innovation, and timeless elegance. Our decorating with lanterns for christmas, particularly this exquisite set, stand as a testament to our enduring dedication to design excellence and quality. Opt for JHY DESIGN and allow us to illuminate your world with unparalleled elegance and versatile style.
Regular price

Sale price

$29.99
Choosing a selection results in a full page refresh.
Your cart
Recommendations