By

JHY DESIGN
7"Tall Battery Powered Leaf Pendant Decorative Lamp (Set of 2)
Regular price
Sale price
$23.99
Unit price
per
Couldn't load pickup availability
Availability:
Out of stock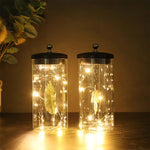 Regular price
Sale price
$23.99
Illuminate Your Abode with JHY DESIGN Set of 2 Leaf Pendant Decorative Lamp Battery Powered Lights
In a world where adaptability and convenience are key, JHY DESIGN brings forth its Set of 2 Leaf Pendant Decorative Lamp Battery Powered Lights. These cordless lamps are the epitome of elegance and functionality, seamlessly lighting up spaces without the fuss of cables and outlets.

Features of the JHY DESIGN Leaf Pendant Decorative Lamp Battery Powered Lights
Cordless Elegance
The defining feature of JHY DESIGN's Leaf Pendant Decorative Lamp Battery Powered Lights is their cordless elegance. The absence of bothersome cords and the requirement for outlets means you have the freedom to place these lamps in any desired location. They are the perfect addition whether you are looking to enliven your living room, beautify your bedroom, or add a festive touch to your kitchen during weddings or Christmas.
Set of Two
Each pack comprises a set of two JHY DESIGN Leaf Pendant Decorative Lamp Battery Powered Lights, allowing versatility in lighting for assorted settings. They can be placed individually in different areas or paired together for a harmonious illumination concept, providing ample lighting alternatives.
Exceptional Portability
With their compact design and lightweight build, these battery operated lamps by JHY DESIGN ensure unparalleled portability. You can easily transport them to different rooms or utilize them for various events and celebrations. Their portability broadens the spectrum of their application, making them an essential lighting element for any occasion.
Fairy Lights for Enchanting Illumination
Embedded with fairy lights, these lamps offer a magical and enchanting illumination, making them an ideal choice for creating a whimsical atmosphere in your living spaces or during festive occasions.
Benefits of Using Battery Operated Lamps
Versatile Home Decor
Battery Operated Lamps from JHY DESIGN give homeowners the liberty to explore and experiment with different decor styles and placements. They allow the seamless rearrangement of lighting fixtures to suit the mood and design of any room without being constrained by cords and outlets.
Safety and Uncomplicated Placement
The cordless nature of these modern lamps eradicates the hazards associated with tripping over cords and offers hassle-free placement, especially beneficial in spaces with limited access to power outlets.
Suitable for Every Occasion
Whether you want to light up your indoor spaces or use them as decorative elements during special occasions like weddings or Christmas, JHY DESIGN's Battery Operated Lamps are a versatile choice.
Emergency Illumination
In the event of power failures or other emergencies, Battery Operated Lamps by JHY DESIGN can provide essential illumination, ensuring safety and convenience.
Applications of JHY DESIGN Leaf Pendant Decorative Lamp Battery Powered Lights
Living Room Lamps: These lamps add a decorative and enchanting touch to your living room.
Bedroom Elegance: Create a relaxing and beautiful ambiance in your bedroom with these decorative lamps.
Festive Decorations: Perfect for adding a festive glow during weddings, Christmas, or other celebrations.
Kitchen Illumination: Light up your kitchen with these decorative lamps, making it a pleasant and inviting space.
Event Enhancement: These lamps are a great addition to any event, enhancing the overall aesthetic and atmosphere.
JHY DESIGN's Set of 2 Leaf Pendant Decorative Lamp Battery Powered Lights offer versatile, enchanting, and reliable lighting solutions, making them great companions for home decor, festive celebrations, and emergencies, all while providing the convenience of cordless usage and exquisite design.
Regular price

Sale price

$34.99
Choosing a selection results in a full page refresh.
Your cart
Recommendations