Regular price
Sale price
$21.99
Unit price
per
Couldn't load pickup availability
Availability:
Out of stock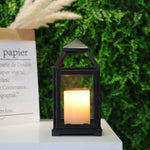 Regular price
Sale price
$21.99
JHY DESIGN Decorative Lanterns: Radiance of Elegance and Versatility
JHY DESIGN, a celebrated name in home decor and lighting, consistently produces superior quality illumination and decorative solutions. In our extensive collection of decor items, we specialize in battery lamps, outdoor lanterns decor, alcohol lamps, and electronic candle lights. Our enduring commitment to design, functionality, and customer satisfaction reflects in every unique piece we craft. With JHY DESIGN, you don't just select an item; you embrace a tradition of unrivaled excellence.
Outdoor Lanterns: Embodying Timeless Elegance
JHY DESIGN's outdoor lanterns are a distinguished emblem of timeless elegance and sophistication. These meticulously designed lanterns are the quintessence of style and functionality, making them an attractive centerpiece in various settings—whether it's a tranquil garden party or a romantic outdoor wedding setting. Immerse yourself in the enchanting world of JHY DESIGN's Outdoor Lanterns and experience the transformative allure of exquisite lighting.

Varied Applications of JHY DESIGN's Outdoor Lanterns

Garden Aesthetics

Our decrative candle lanterns bring a warm, inviting glow to gardens, highlighting beautiful features and creating a visually stunning landscape.
Their vintage appeal harmonizes with the natural allure of gardens, offering a serene ambiance for relaxation.
Positioned strategically, they accentuate the overall aesthetics of any outdoor space, elevating evening experiences.
Wedding Celebrations

Serving as mesmerizing centerpieces, our lanterns illuminate wedding tables with a unique, romantic radiance.
Whether hung from branches or placed gently along walkways, they guide guests with their soothing light, enhancing the overall wedding ambiance.
The intricate combination of metal and transparent glass adds a vintage charm that beautifully complements wedding decor themes.
Patio and Porch Illumination

JHY DESIGN's Outdoor Lanterns Camping are the perfect enhancements for patios or porches, emanating a cozy atmosphere ideal for gatherings.
Constructed with durable metal, they promise lasting reliability, making them a preferred choice for outdoor illuminations.
Beyond enhancing pathways with their light, their versatility makes them a great addition to indoor spaces, seamlessly blending with varying decor styles.
Product Details and Features
The 12-inch High Metal Outdoor Wall Lantern from JHY DESIGN is more than a lantern; it's an artistic blend of design and craftsmanship. Featuring durable metal in a dark brown finish, this lantern offers a vintage style that harmoniously blends classic and contemporary elements. Its perfect dimension makes it versatile for different uses—be it a tabletop placement, porch hanging, or as a charming event centerpiece, this lantern promises to mesmerize. With JHY DESIGN's assurance of quality, investing in this lantern means acquiring a product that stands the test of time.

Illuminate Your Surroundings with JHY DESIGN
JHY DESIGN is synonymous with quality, elegance, and enduring aesthetic appeal. Our Christmas Lanterns, particularly the 12-inch High Metal Candleholder Lantern, epitomize our dedication to unparalleled excellence. Opt for JHY DESIGN and allow us to infuse your spaces with unmatched style and elegance, enhancing every moment with the soft glow of our timeless lanterns.
Regular price

Sale price

$29.99
Choosing a selection results in a full page refresh.
Your cart
Recommendations