By

JHY DESIGN
13''H Black Memorial Lantern in Memory of Loved One Memorial Gifts
Regular price
$29.99
Sale price
$27.99
Unit price
per
-7%
Couldn't load pickup availability
𝐄𝐱𝐩𝐞𝐜𝐭𝐞𝐝 𝐝𝐞𝐥𝐢𝐯𝐞𝐫𝐲: 𝟓-𝟕 𝐝𝐚𝐲𝐬 𝐟𝐫𝐨𝐦 𝐨𝐫𝐝𝐞𝐫 𝐜𝐨𝐧𝐟𝐢𝐫𝐦𝐚𝐭𝐢𝐨𝐧 𝐝𝐚𝐭𝐞
🚚 𝙁𝙧𝙚𝙚 𝙨𝙝𝙞𝙥𝙥𝙞𝙣𝙜 𝙤𝙣 𝙤𝙧𝙙𝙚𝙧𝙨 𝙤𝙫𝙚𝙧 59𝙐𝙎𝘿
---
Availability:
Out of stock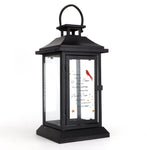 Regular price
$29.99
Sale price
$27.99
JHY DESIGN: Illuminating Memories with Glass Etched Remembrance Lanterns
JHY DESIGN stands at the forefront of crafting exquisite lighting solutions and home decor that merge artistic beauty with functionality. Our diverse collection includes not only outdoor lanterns and electronic candle lights but also personalized memorial pieces. Choosing JHY DESIGN means bringing home a creation that embodies exceptional quality, design, and utility, enhancing your living environment with its presence.
Glass Etched Remembrance Lanterns: A Tribute to Lasting Memories

Our Remembrance Lanterns are more than mere lighting elements; they are curated with love and care, providing comfort and solace to those in mourning. The delicate glass etching, adorned with words of remembrance, transforms each lantern into a heartfelt memorial. These pieces serve as a source of light that continues to echo the essence of loved ones, making for a profound and empathetic expression of sympathy.
Versatile Elegance in Every Setting

The lanterns from JHY DESIGN transcend their functional purpose, becoming emblematic of honor and memory. Ideal for placement at memorial events or as a contemplative piece within the home, they offer a soft illumination that is both literal and metaphorical, casting a light that nurtures the memory of those passed.
Incorporating poignant inscriptions, these lanterns become a vessel for conveying heartfelt condolences. They are not only a respectful nod to the departed but also a supportive gesture for those grieving, providing a tangible representation of shared sorrow and remembrance.
Housing the allegorical eternal flame, our Remembrance Lanterns maintain a continuous presence, a beacon of the undying light of remembrance. They are designed to bring a sense of peace and reflective warmth to any setting, embodying the undiminished connection with those we hold dear.
Craftsmanship That Honors Memories
The 13" High Glass Etched Memorial Lantern from JHY DESIGN is an artifact of emotion and memory. Its elegant glass etching, inscribed with a memorial verse, makes it an introspective and considerate token of remembrance. Constructed with enduring materials, it is crafted to be a lasting homage, offering comfort in both solitary and shared moments of remembrance, indoors or out.
Embrace the Glow with JHY DESIGN

JHY DESIGN transcends typical branding to represent a synthesis of style, enduring quality, and heartfelt design. Our 11" high lantern is a testament to our dedication to artistry and excellence. Opting for JHY DESIGN is to choose a legacy of elegance and intentional design, allowing us to brighten your spaces and memories with dignity and tenderness.
Shedding Light on Bonds with JHY DESIGN

The Glass Etched Remembrance Lanterns by JHY DESIGN are the bearers of lasting connections and cherished recollections. Their refined design and inscribed verses stand as beacons of empathy and comfort. These lanterns are not mere decor; they are profound symbols that shine upon the perpetual bond with those no longer with us. Let JHY DESIGN's craftsmanship bring solace and beauty into your life, honoring memories with every gentle flicker of light.
-20%

Regular price

$34.99

-21%

Sale price

$27.99
Choosing a selection results in a full page refresh.